Makes about 18 cupcakes
Dessert category
**Might need assistance from your parents**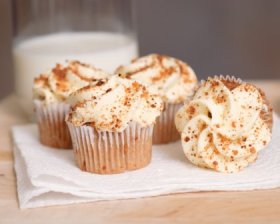 APPLE CUPCAKE BATTER
2 cups all-purpose flour (spoon flour into dry-measure cups and level off)
1 teaspoon baking soda
1 teaspoon freshly grated nutmeg
1/2 teaspoon ground cinnamon
3 eggs
1 cup sugar
1 cup vegetable oil
2 teaspoons vanilla extract
3 KINGS Gravenstein apples, peeled, cored, and grated to make 3 cups
1/2 cup walnut pieces, coarsely chopped, optional for those allergic to nuts
1/2 cup dark raisins
CREAM CHEESE FROSTING
8 ounces cream cheese, slightly softened
4 tablespoons (1/2 stick) unsalted butter, slightly softened
2 cups confectioners' sugar, sifted after measuring
1 teaspoons vanilla extract
Two 12-cavity muffin pans each lined with 9 cupcake papers
Position rack in the middle of the oven and preheat to 350 degrees.
Combine the flour, baking soda and spices and stir well to mix.
In a large bowl, whisk the eggs just to break them up. Whisk in the sugar in a stream, continuing to whisk for a minute or so, to lighten the mixture, then whisk in the melted butter, then the vanilla, in a stream. Fold in KINGS grated Apples, walnuts and raisins.
Divide the batter evenly among the 18 lined cavities and bake for about firm and baked through, about 30 minutes. Cool on a rack for 10 minutes, then unmold and cool completely.
For the frosting, combine the butter and cream cheese in the bowl of an electric mixer and beat with the paddle on medium speed until completely mixed together, about 3 minutes, stopping and scraping the bowl and beater several times.
Decrease the mixer speed to lowest and add the confectioners' sugar a cup at a time, beating until absorbed after each addition. After the last cup is added, the frosting might look dry, but it will eventually smooth out.
Beat in the vanilla and increase the mixer speed to low-medium until the mixture is no longer dry looking, about 2 minutes. Increase the mixer speed to medium and beat the frosting until it is smooth and light, about 4 or 5 minutes.
Spread the frosting, swirling it on to the top of each cupcake.
Please visit KingsFoodMarkets.com for more recipes