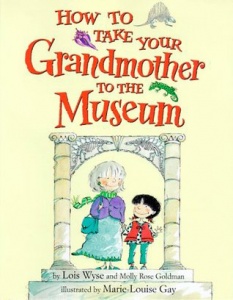 I treasure the special bond my children share with their grandparents – although, of course, I always wonder how these people (aka our parents) can be the same ones who engaged such strict rules and held such high expectations and yet now believe that an entire box of Mallomars is an acceptable snack and barely raise an eyebrow when they discover a chocolaty smudge on the wall.
Oh well. So they've got the kids fooled. Still, the time they spend together and the places they visit are priceless memories – and the book, 'How To Take Your Grandmother To The Museum' written by Lois Wyse and her 10-year-old granddaughter Molly Rose Goldman and illustrated by Marie-Louise Gay, captures this exact sentiment. Grandmother is always taking Molly to her favorite places - to art galleries, to the theater and to the planetariums - but then Molly learns Grandma has never been to the Museum of Natural History and decides it's her turn to take the lead and show her around.
"Remember to wear comfortable shoes," Molly tells her grandmother. "And remember to use the bathroom before you leave home." Come Saturday morning they head to the museum.
First stop is the dinosaurs (Molly has a feeling her grandma would like them because they are even older than she is!). Molly explains exactly how they were found and how the skeletons were put together. They see the Anatotitan and the Stegosaur, the Pteranodon hanging from the ceiling, plus the T-Rex and Apatosaurus. Then it's off to Africa, the ocean life exhibit, the rock collection, and the bug collection. With Molly as a tour guide, their visit is a non-stop imaginative marathon through the museum – they pretend to lace up their 'thermal lined hiking boots' for a trek through the artic as they walk past mountain goats and Alaskan brown bears - and Molly is an excellent guide, teaching both Grandma and the readers many interesting tid-bits about the exhibits and artifacts they are seeing.
Best suited for ages 6 and up, 'How to take your Grandmother to the Museum' is a truly enjoyable read – first, and foremost, it's a wonderful tale about the bond between a grandmother and a child, and the special time they spend together (it would make a perfect gift for any grandma); and secondly, it's a great synopsis of the Museum of Natural History. Share it with your child before your first visit or read it together after a day at the museum – the illustrations are spot on (real photos are interspersed with the illustrations) and kids will love to see the displays and rooms where they just visited. Best of all, maybe your child and their grandma will read the story together then head out to create their own memories.
How To Take Your Grandmother To The Museum
Written By Lois Wyse and Molly Rose Goldman
Illustrated By Marie-Louise Gay
Workman Publishing Company
48 pages
6 and Up
Reviewed by Jenny Tananbaum, NJ Kids Staff