Do you feel stressed around the holiday season?
Well don't let this time of year get the best of you. This is a time filled with love and laughter and finger lickin food! Don't let a batch of burnt cookies get you down. Hug your little ones, laugh off the little things and don't stress the storm you can't control.
This is not a movie scene or a picture perfect moment in time… your holiday get together will be full rowdy kids, rambunctious pets, and those infamous "OOPS!". Take a deep breath and accept the holidays are not perfect. What is perfect is spending time with the ones you love and seeing the smile on your child's face when they open their first gift from Santa this year. Don't set the bar so high with expectations and simply go with the flow. Especially if you're the host of this year's holiday celebration… if you have expected guests, then I'm positive you have a willing helping hand close by!
With the holidays comes a handful of invitations… and to dos and deadline and who and where to bring the kids. It's easy to find yourself being dragged in every direction this time of year. To prevent this from happening and bring your stress level from 10 to 2, don't overbook yourself. Say no… I know… easier said than done. Organize your time with those tasks you HAVE to do with some of those holiday activities you enjoy.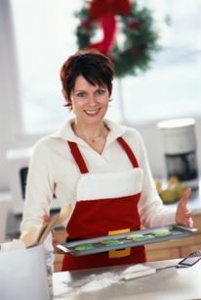 The holidays can put a toll on relationships. Or the mere fact of just seeing that relative may make you cringe. Don't let the unaccepting in-laws or overbearing siblings spoil your time. Interact with them in small doses, otherwise surround yourself with those who make you smile.
Don't substitute your sleep in order to be the first in line at the toy store. Manage your time better to get both your wrapping done AND a good night rest. They'll forgive you for just tossing their toy in a gift bag... but nobody likes a grumpy parent.
Keep calm and enjoy your holiday!
Stephanie Falcone