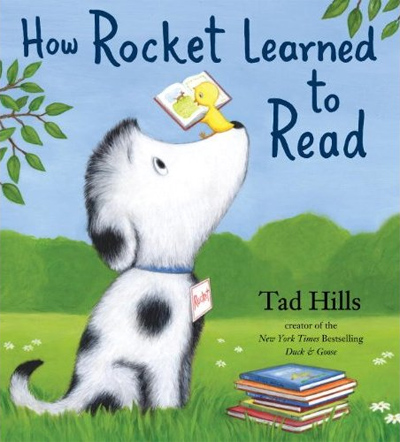 My son was an early reader, so I simply assumed the art of connecting letters together to form a word was nothing more than a predictable milestone that all children reached by the time they entered kindergarten.
Then along came my middle child. She stared blankly at letters on the page, guessing their sounds, and when it came to making words, she simply guessed. Both of us were equally frustrated. If only I had read How Rocket Learned to Read back then.
Written and illustrated by Tad Hills (author of the bestselling picture book series, Duck and Goose), How Rocket Learned to Read is a wonderfully cheerful tale of Rocket the Dog and his new friend - and teacher - a yellow bird. One day, settling in for a nap under his favorite tree, the yellow bird perches atop his head.
"Aha! My first student!" she sings, pointing out the sign tacked to the tree ("Class Starts Today").
Rockets glances at the sign, then admits that although he sees the sign, he cannot read it. And besides, he just came for a nap.
"No, no!" the bird reprimands. "There will be no napping in the class!"
Rocket simply moves his napping spot farther away, but his teacher is undeterred. The bird hangs an alphabet banner nearby (the letters are in both capital and small letters, engaging young readers), and then opening up a story, the yellow bird begins to read. At first Rocker is "disturbed", but soon he is "captivated" and listens happily to the story about a dog who buried his bone and then lost it. The yellow bird continues until just the end, "As Buster dug and dug under the lilac bush, he felt something familiar", and then stops. Buster jumps up. "WAS IT THE BONE?!" he hollers, but when he races back to the tree, the yellow bird is gone.
The next morning, Rocket returns to the tree ready to learn. Every day the bird teaches him a new letter until they have completed the whole alphabet. They sing the sounds of the letters, slowly putting letters together, and as summer turns into fall, sounding out words. (F-A-L-L for the gusty time of year, and R-E-D for the color of the leaves).
Then one day, the alphabet banner is gone, and yellow bird is leaving for the winter. As she flies off, she calls down to Rocket, "Don't forget! Words are built one letter at a time!". Rocket doesn't give up. Alone, the dog (delightfully illustrated by Hills, a bit reminiscent of Harry the Dirty Dog, with big, cuddly eyes) practices his letters and sounds out words. The winter is C-O-L-D, and there is W-I-N-D, but soon, the S-U-N comes out, and the ice and snow begin to M-E-L-T. When he can spell M-U-D, Rocket knows it is Spring! Soon a sign appears, tacked to his favorite tree: Class Starts Tomorrow. Yellow bird is back, and happily they begin reading stories together, and of course, they finish the saga of Buster, the dog, who finds his bone under the lilac tree.
How Rocket Learned to Read is a perfect story for an emerging reader – it happily breaks down the process of learning to read. And best of all, the book is interactive - young children can help read the letters, and slowly they will learn to read right alongside Rocket. After all, learning to read is supposed to be a fun activity, not a chore, and in the end, will open up the wonderful world of books to our children.
P.S. My daughter learned to read just fine, as her teacher always knew she would!
How Rocket Learned to Read
Written and Illustrated by Tad Hills
Published by random House Children's Books
40 Pages
Recommended for Ages 3-7