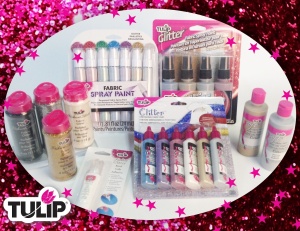 There's no better time to craft than for the holidays. To get a jump start on your gifts, here are some fun, easy DIY craft ideas that you can make by yourself, with friends, or with the kids.
The holidays are a time for sparkle and Tulip Dimensional Fabric Paint can add glittery 3D lines, dots and squiggles to a variety of surfaces. The glitter in this paint won't flake off. The whole line of Tulip fabric paints dry soft and flexible so they won't disappear after repeated washings so the gifts you create will last. There are tons of ways to add glam to your clothing, accessories, and decorations.
These ideas will give you a good start this holiday season whether you are looking for gift ideas or ready to make some great gifts. Happy crafting!
Reviewed by Sarah Graves