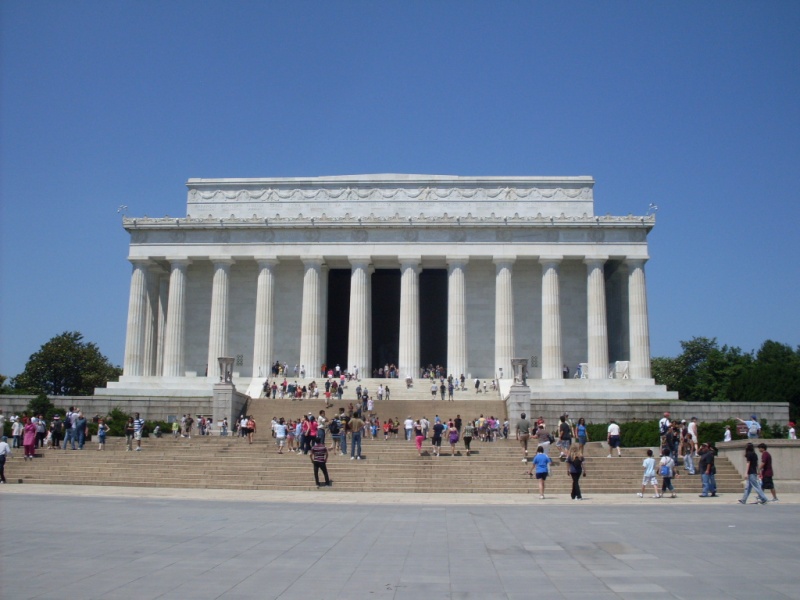 When any parent thinks of a family vacation they often consider a week off from work, a week away from the house and all of its chores, a week spent with their significant other and their children. When a child thinks of a family vacation they anticipate activities chock full of fun and excitement, hopefully missing a week of school or summer camp, and knowing that they'll most likely get to snack on ice cream every night for dessert because, after all, it's a vacation, time to throw the rules out the window for a few days. However, I'm willing to bet that when children think of family vacations they envision water parks, Disney characters, and camping tents, not monuments or museums praising deceased presidents and prominent political figures. Well, have no fear, Washington D.C. may be a vacation of educational value, but it's still a vacation in which the entire family will be able to have fun and explore all sorts of exciting attractions. In fact, Washington D.C. takes everything your children has been learning about our country in school and brings it to life right in front of their eyes. Your children won't even realize that they're learning valuable information about our great nation while on vacation. So, when your children return to school in the fall and all their history teachers are impressed with their contributions to class, give yourself a pat on the back for a stellar family vacation and remember to thank Washington D.C. as well, because you just scored brownie points with your child's education.
We, here at NJ Kids Online, have compiled an ideal vacation itinerary for you and your family to reference as a guide to maneuver around Washington D.C.. We have everything from hotels to food, museums and monuments to zoos and other attractions, from traveling from New Jersey to D.C. to getting around D.C. So sit back, relax, enjoy, and don't forget to pack your powdered wig!
Highways and Exit signs to Washington D.C.
Any New Jersey resident will spend a majority of their time driving on Turnpike South and I-95 South. By car, with minimal traffic, you and your family will arrive in Washington D.C. in about 4 hours. Of course, you will encounter new highways to explore, but if you just plug in your GPS or print out directions from Google Maps, you and your family will have no problem getting to your destination. In regards to exit signs, keep your eyes open for the Maine Ave exit, which should lead you to some of the most prominent monuments in D.C.
Hotels
Upon vacationing in Washington D.C. you and your family will need a place to relax and freshen up after a day's worth of exploring and activities. I've compiled a couple of hotels that you and your family will enjoy without having to break the bank.
Hotel Harrington: The Hotel Harrington, for under $125 a night, is one of Washington D.C.'s oldest, and continuously operating, hotels. Although it doesn't offer very many amenities, the Hotel Harrington's low prices and very convenient location, right in the heart of D.C., makes this hotel a hit. This hotel is perfect for families who like the two bedroom, two bathroom deluxe suits.
Washington Doubletree Hotel: The Washington Doubletree Hotel, for around $125-210 a night, is located just off of Scott Circle. This hotel was recently renovated in 2008 with spacious guest rooms, coffeemakers, robes, and other amenities. In fact, this hotel may have a more home-like feel due to its New York sensibility and is conveniently located in the heart of D.C., just six blocks from the White House. This hotel is perfect for families who are seeking a child-friendly environment in a good location, as well as a fitness center.
Getting Around Washington D.C.
The best thing about Washington D.C. is that every monument, museum, and attraction is within walking distance of each other, and is within walking distance of your hotel if you choose to stay in a hotel in D.C. Thus, walking around and seeing the sights are the best way to get to each location you desire. However, you and your family also have the luxury of taking a taxi, a bus, or driving around in the comfort of your own vehicle.
If you and your family decide to stay in a hotel outside of D.C., the most efficient way to get into D.C. is via the Metro station. The Metro station is within walking distance of terminals B and C with a free airport bus shuttle between the station and terminal A. Riding the Metro into Downtown D.C. takes about 20 minutes and costs about $1.85 per rider.
Kid/Family Friendly Attractions
When you and your family visit Washington D.C., you may feel overwhelmed with all the monuments, museums, attractions, and sights that you may want to see. Have no fear, NJ Kids Online is here! And together we have compiled an ideal itinerary that may help you and your family organize your days, we want to make sure that you get to see everything that makes D.C. so inspirational while still having fun. You will find that you and your family will spend a majority of the time exploring Capitol Hill and Downtown D.C. So on your mark, get set, explore!
Capitol Hill:
In exploring Capitol Hill, my best advice to you would be to go on the 30-40 minute bus tour conducted by the Capitol Guide Service. On this tour you will see the Rotunda, the National Statuary Hall, the Hall of Columns, the Old Supreme Court Chamber, the Crypt, National Postal Museum, and U.S. Botanic Garden. When the tour is over, you and your family can revisit some of the places and locations that you saw to further explore and learn about Washington D.C.
Downtown:
In venturing Downtown, you and your family will see Ford's Theatre, International Spy Museum, the National Archives, National Building Museum, National Portrait Gallery and Smithsonian American Art Museum, and Newseum. Your children are sure to love the atmosphere, activities, and museums in Washington D.C.'s kid-friendly Downtown area.
Most Prominent Destinations for You and Your Family
In regards to museums, your family will love the Smithsonian American Art Museum and the National Portrait Gallery. It's two museums in one and is located in the historic old patent house building. The Portrait Gallery has portraits of every single U.S. President, athletes, musicians, and Hollywood celebrities.
The National Museum of American History is an awesome museum for all ages. You and your family can see the flag that inspired the "Star Spangled Banner", see Oscar the Grouch, and walk down the Yellow Brick Road to see Dorothy's Ruby-Red Slippers, among other must see artifacts.
National Air and Space Museum is a must see for any kid! With 23 galleries telling the story of aviation and space at its earliest points in humanity, as well as being able to eat freeze dried astronaut food, your child is sure to love this museum in exploring the world, and universe, around them.
The International Spy Museum is a great museum for older children. This museum takes espionage to a whole other level that transcends anything your child might have seen in movies. With all the cool gadgets, your older tween and teenage children will love this museum. If you decide to bring your younger children then you may be in for a workout because there aren't many places to sit and relax and strollers are not allowed in the museum.
Other attractions include the Museum of Natural History, the National Zoo, and the monuments.
I'm sure that if you're venturing to Washington D.C. you are going to want to see the monuments erected in the honor of some of the most prominent political figures that shape our country. Make sure to stop at the White House, although it takes significant advance planning to visit the interior of this symbolic destination, you and your family can still see the exterior of the house right outside the property line fence. Don't forget to visit the Washington Monument, Lincoln Memorial, U.S. Capitol Building, World War II Memorial, Jefferson Memorial, FDR Memorial, Vietnam Memorial, Korean Memorial, and the Old Post Office.
Restaurants
In Washington D.C. there are over 1,800 restaurants. However, if you're on vacation and you're not looking for 5-star quality food at every meal, perhaps it's good to just stick with the basics. Places such as California Tortilla, Chick-fill-A, Firehook, Five Guys, Fuddrucker's, and TGI Friday's are quick, tasty, and well known restaurants that will fill you and your families tummies without breaking the bank. At about $10 or less per person, how could you go wrong?
Also, we know how every kid, and parent, looks for a dessert after dinner or as a midday treat. Located in Downtown and Capitol Hill is a Ben & Jerry's where you and your family can indulge in a wide variety of delicious ice cream flavors.
You Have Reached Your Destination
Hopefully, after reviewing our ideal itinerary, you and your family will have left no stone, or in this case, monument, unturned and enjoyed your vacation in Washington