Hershey Park is considered the Sweetest Place on Earth – and it's definitely one of the best family destinations around, complete with an amusement park, water park, zoo, gardens and a museum. But while you can easily spend an entire weekend in Hershey, PA – consider turning your trip into a longer getaway and explore the area beyond the park and discover world famous gardens, Revolutionary War National Historic Sites, and a bit of Amish history.
Day One
Hershey Park
Buckle up and hold on for a fast-paced day barreling down one of the parks 12 roller coasters or enjoy over 65 other family and kiddie rides – then cool off at The Boardwalk at Hershey, a water area complete with high-speed slides, a gentle lazy river – and much more. When you need a little non-adrenaline break, visit Zoo America and take a walk among the wildlife. Admission is free with admission to Hershey Park.
Lodging – There is are no shortages of lodging options in the Hershey Park area – from on-site hotels including The Hotel Hershey to Hershey Lodge to nearby off-sight hotel and motel chains such as Days Inn, Hampton Inn and Best Western.
Tips:
The park opens at 10AM during the summer
Buy your tickets online before you arrive to save time in the morning.
If you are planning to spend more than one day at the park, be sure to purchase a Two Day Flex Pass.
If you arrive the night before, you can purchase a Preview Plan ticket – come to the park 2 ½ hours before closing time, buy a full price ticket for the next day, then spend the rest of the evening at the park for free
If you are a coaster fanatic and don't mind spending a little extra – purchase a Fast Track Pass – for $50 you can skip the lines on 9 of the roller coasters. Available at Hospitality Services while supplies last.
Day Two
AM - Hershey, PA
You can easily spend another full day enjoying the rides – but resist the urge to head back to the park and instead visit some of the other local attractions, including Chocolate World (The Great American Chocolate Tour and a 3-D movie), a Trolley tour through the Historic town of Hershey, Hershey Gardens - kids will love the Butterfly House, the Children's Garden, and the Giant Kisses spraying fine mists of water, The Hershey Story Museum, or the Antique Auto Museum.
Tips:
Gardens:
AAA and senior discounts available
Online Ticketing available
Check the website for special events
Picnic Tables are available outside the main gate
Chocolate World
Admission is free, as is the Great American Chocolate Tour. There is a charge for all other attractions
Purchase tickets for the Trolley Tour inside at the Trolley counter
PM - Lancaster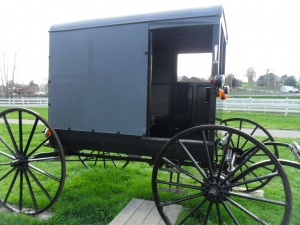 After lunch, drive 40 minutes to Lancaster, one of the oldest non-coastal cities in the United States. There are plenty of activities to keep everyone busy (and happy!) for days, but this afternoon choose from a couple of the highlights, either in the city or nearby - Landis Valley Village and Farm Museum, James Buchanan's Birthplace, Choo-Choo Barn in Strasburg, Lancaster Science Factory, Rock Ford Plantation, North Museum of Natural History, and the Amish Farm and House.
Lodging – There are a variety of hotels available - or stay for the night at an authentic working farm on the outskirts of town, such as Homestead Guesthouse – an Amish Bed and Breakfast.
Day Three
AM - Lancaster
Spend the morning visiting another site from the list of things to do in Lancaster - or simply take a Horse and Buggy tour of Amish country. Kids will love clip clopping along through the countryside, witnessing a taste of life in Lancaster County. A list of tour operators can be found at http://www.padutchcountry.com/index.asp
PM – Longwood Gardens, Kennett Square
After lunch, drive 45 minutes to Longwood Gardens, one of the world's premier horticultural gardens. With over 1,077 acres and 20 indoor and 20 outdoor gardens, there is beauty abounding down every path. Kids will marvel at the Children Indoor Garden, Natures Castle Treehouses, and the BeeAmazed Garden. Family activity packs available.
Tips:
Special events are held throughout the summer. Make sure to check the Longwood Garden website in advance to see if any nighttime events – such as Illuminated Fountain shows or Fireworks – are planned and consider staying for the remainder of the day. Reservations and tickets required and need to be purchased in advance
Purchase tickets online to avoid lines
Military discount available
Lodging: Kennett Square has a variety of motels.
Day Four
Valley Forge
Valley Forge National Historic Park, a 45-minute drive from Kennett Square, is the site of the 1777-78 encampment of the Continental Army. Start at the visitor center and tour the museum to learn about the hardships of the revolutionary war and the historical significance of Valley Forge. Then take a self-guided tour of the park's highlights, including General George Washington's winter headquarters, a Ranger Guided tour, or a 90 minute Trolley Tour.
Other park activities include biking, hiking and birding. Special events are held throughout the summer.
Tips –
Entry to the park is free
Kids can earn a Junior Ranger badge by completing an activity book during their visit. Booklets available at visitors center