It's never too early to begin training the next generation of conservationists. At current rates of extinction, many of nature's creations may not live to see another generation. Among the list of at-risk species, African elephants are alarmingly vulnerable. Teaching kids about wildlife conservation not only influences long-term habitat and animal preservation but also promotes responsibility and compassion. Inspire your children through hands-on activities that teach them the importance of conservation. These fun crafts provide them with interactive lessons in wildlife preservation and motivate your future activists to have a positive impact on the sustainability of African wildlife.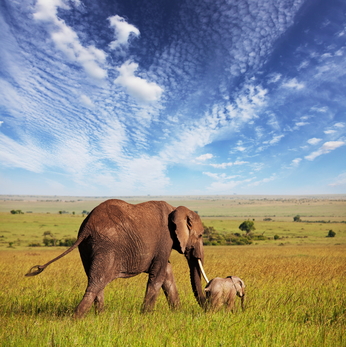 Muti-Purpose Trunks
Teach your kids about the incredible power of elephant trunks with this party blower craft project from Spoonful. Using card stock and scissors, cut the card stock into an elephant shape. Insert the party blower in place of the trunk in the face of the elephant cut-out. Your children will love seeing the party blowers unfold and make a trumpeting sound as elephants do in the wild.
The lesson: An elephant trunk has tens of thousands of muscles, according to the International Fund for Animal Welfare. A whole human body has fewer than 650. Using their trunks, elephants pick food from trees that are too tall for other animals to reach. As these trees are ingested, the seeds from the trees are spread through their waste, creating a life-cycle of vegetation that helps preserve biodiversity in the ecosystem.
Tusks of Ivory
Using paint, card stock and paper plates, Pocketful of Posies suggests creating the face of an elephant, including intriguing details like their large ears, strong trunks and majestic tusks. Children will love playing with paint and creating their very own elephant. As they put together the features of an elephant face, they'll also gain valuable insight on this pachyderms physiology.
The lesson: According to the African Wildlife Foundation, humans are the biggest threat to African elephants. Big game hunters poaching for ivory are principally responsible for the rapid decline of the elephant species in Africa, decimating 8 percent of the elephant population annually. Through this activity, children can learn the importance of preserving life and reducing environmental crimes.
Stomp the Yard
Encourage your kids to take a walk on the wild side with this fun craft by Martha Stewart. By taking a walk in their "shoes", children can learn about the great power and strength of these huge pachyderms. Take this opportunity to discuss toe biological composition of an elephant. For example, weighing in at 13,000 pounds, the extra padding on an elephants' foot is essential to ease the burden of this heavy load.
The lesson: As the worlds largest mammal, elephants require room to roam. Increasing habitat restrictions are cutting off elephant migration routes that prevent them from attaining food and water. Programs like the AWF elephant conservation initiative help maintain elephant habitats and migration routes to create peaceful barriers between humans and wildlife.