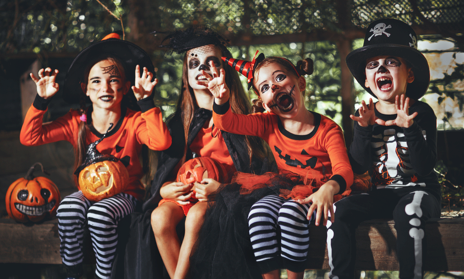 Halloween might look a little different this year. The CDC has announced guidelines suggesting it would be a good idea to avoid Trick-or-Treating, fairs, and large parties for everyone's safety but, this doesn't mean you can't have fun this October. There are many ways you can celebrate this spooky holiday from home. Here are our top ideas:
COSTUMES
This year, get the family to use their imaginations to make their own costumes from items you already have at home. Invent new characters or mimic popular favorites – the sky's the limit. On the big day, you can have a red-carpet event or a fashion show where everyone can explain their costume with cheers and applause from the audience. It can even be a contest for prizes or certificates. Don't forget to take lots of pictures!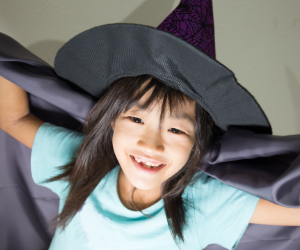 PUMPKINS
A traditional activity before Halloween is to carve a jack-o-lantern. Let everyone get their own pumpkin or team up to create a fun masterpiece. Carve out a traditional face or a unique one with decorations like candies, sparkles, and/or fabric. Make it a full event with Halloween music and yummy goodies!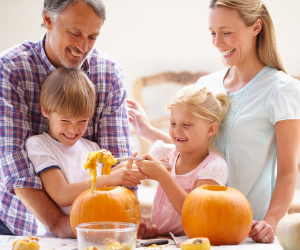 DECORATIONS
It might not be recommended to pass out candies or hold a gathering this year, but it doesn't mean you can't decorate and get into the Halloween spirit. Make some crafts like pinecone wreaths or luminary bags with spooky cut-outs, display them around the house, hang orange lights, add pumpkins, scarecrows, Indian corn, and colorful leaves. Plan it out together and create the most beautiful Fall/Halloween house on the block inside and out.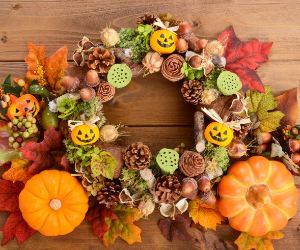 GO GHOSTING
Make and decorate personalized Treat Bags with candies, goodies, toys, and so on, for neighbors, nearby friends, and family. The week of Halloween, deliver the Treat Bags to their doorstep, without them seeing you, with a note encouraging them to become a similar, little ghost for their friends and family. Waking up to this wonderful surprise will surely bring a smile to everyone's face and leave them wondering who their "little gifting ghost" is.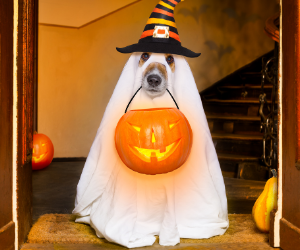 GAMES
There are so many fun Halloween games to play. Prepare in advance and create a fair or festival of your own. Game ideas can include: bobbing for apples, TP mummy races, pumpkin bowling with decorative tin cans, knock the ghosts, marshmallow toss in the witch's hat, or an elaborate haunted room with fog, creepy noises and yucky things to see and touch.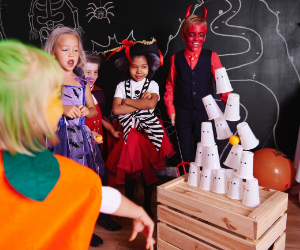 MOVIE NIGHT
For a quiet and private night-in on Halloween, you might want to simply cuddle up on the couch, wrapped in a seasonal blanket, to watch your favorite holiday movies. Set up your Netflix, Hulu, Amazon Prime, On Demand etc. line-up with fun, family favorites like: Hocus Pocus, Nightmare before Christmas, Adams Family, Double Trouble, Casper, Goosebumps, and Ghostbusters to name a few.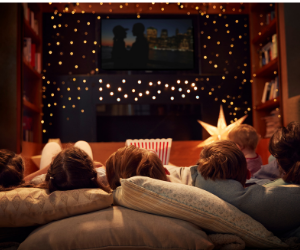 FOOD
Prepare a special, spooky-themed meal, to make the night stand out. Ideas might include dishes like meatball-eyeball appetizers, carved orange peppers stuffed with meat, veggies and rice, and caramel apples or decorated cookies for dessert. Don't forget fun drinks too! Go all out – have fun making it all together and, better yet, enjoy the yummy rewards for all your hard work.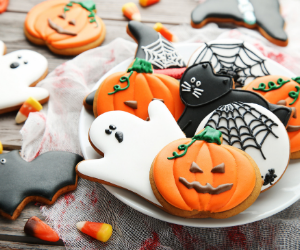 HOST A VIRTUAL PARTY
Celebrate Halloween with friends and family virtually by using Zoom or Skype! Even though you might not be able to be in the same physical space together, you can still party together. Plan with all involved! Ideas can include games, costume parades and competitions for best costumes and/or best background decorations, as well as an award ceremony, possibly concluding with a shared, streamed movie with popcorn and candy.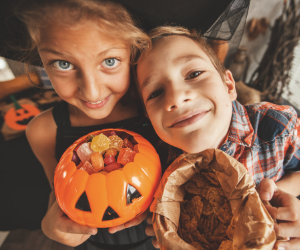 Halloween will be different this year, but we can still have a ton of fun with the family celebrating this spooky holiday from the safety and comfort of our home.
HAPPY & HEALTHY HAUNTING !!!