Honoring Veterans In November
Discover airplanes, battleships, all things military...
Veterans Day honors all military veterans who served in the U.S. Armed Forces. We thank them for their service. Take some time out to explore and bring your children to visit some of these military related attractions and museums throughout New Jersey and New York. See what life was like in the military barracks; learn about George Washington's Winter Encampment or experience being in the cockpit seat of a fighter helicopter.
Battleship New Jersey Museum And Memorial
Take a self-guided "Fire Power Tour" at America's most decorated battleship, the USS New Jersey. From the visitor's center, step through passageways; ascend 5 levels up and 2 decks below. Tour the bridge, communications center, combat engagement center, sailor bunks, kitchen and more! Climb into the 16" gun turret ad learn how projectiles were loaded. 62 Battleship Place, Camden, NJ, 866.877.6262
New-York Historical Society
Giant diorama exhibit of the Revolutionary War on the 1st floor. 170 Central Park West (77th St), NYC, 212.873.3400, nyhistory.org

Monday, November 11, 2019, 11AM-4PM: Veterans Day: Soldiers of the American Revolution - listen to stories about life on and off the battlefield

Through Jan 12, 2020: Beyond Midnight: Paul Revere - exhibit features over 150 objects that re-examines Revere's life.
NJ State Museum
Explore "The Civil War Flag Collection New Jersey" at the NJ State Museum; flags change periodically to showcase new flags. 205 West State Street, Trenton, NJ, 609.292.6464
Old Barracks Museum
NJ's revolutionary past comes to life at the Old Barracks Museum. Tour original 18th Century military barracks, historical rooms, meet with costumed revolutionaries, view museum exhibits and more. Fun for everyone! 101 Barrack St, Trenton, NJ, 609.396.1776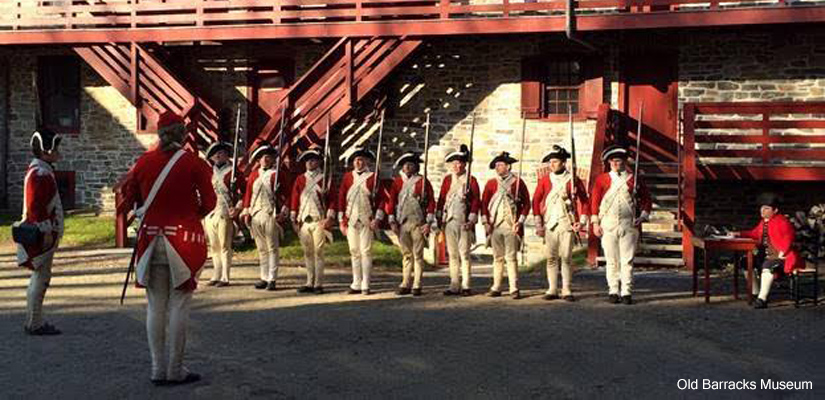 Aviation Hall Of Fame & Museum Of New Jersey
Have a fun time at the Aviation Hall of Fame & Museum of New Jersey. View historic aircraft, helicopters, airplane models, air and space collections, rocket engines, first American hovercraft, photos, and art. 400 Fred Wehran Drive, Teterboro Airport, NJ, 201.288.6344

November 9th & 10th, 2019: Open Cockpit Weekend - Get the feeling of flying, sit in as a pilot on a Lockheed Bushmaster, MASH Bell helicopter, Walter Rescue & Fire Fighting Truck and a Martin 202 airliner.
Fort Lee Historical Park
This Fort Lee Historical Park has scenic overlooks, a reconstructed Revolutionary War encampment, visitor's center, soldiers and officers huts, woodshed and more! , Hudson Terrace, Fort Lee, 201.461.1776

Monday, November 11, 2019, 1PM-4PM: Veterans Day Commemoration - Cannon demonstration at 1PM, followed by a screening of "They Shall Not Grow Old" at 2pm
Intrepid Sea, Air & Space Museum
New exhibits: "Navy Cakes: A Slice of History" and "A View From The Deep: The Submarine Growler and the Cold War". Explore the history of sea, air, and space. Tour Aircraft Carrier Intrepid, Space Shuttle Pavilion, Submarine Growler, and British Airways Concorde. Cool for kids! Pier 86, W 46th St & 12th Ave, New York, NY
Millville Army Air Force Museum
Air museum that preserves aviation, honor veterans, and educate future generations. Learn about seaplanes, Skyhawks, Thunderbolts, Warbirds, aircrafts, Navajo Code Talkers, Women with Wings, and more. Millville Airport, NJ.

Saturday, November 2, 2019, 10AM: Veteran's Appreciation Day - Free to attend
National Guard Militia Museum Of New Jersey
FREE General Admission. Explore the role of NJ's Militia and National Guard within the history of the U.S. This Natural Guard Militia Museum of New Jersey contains the archives of U.S. War Veterans' Oral Histories. Check out exhibits on weapons, uniforms, equipment, photographs, and more. See outdoor military vehicles, aircraft and tanks. Sea Girt Ave & Camp Drive, Sea Girt, NJ
Naval Air Station Wildwood Aviation Museum
Interactive family fun at the Naval Air Station Wildwood Aviation Museum! Aircrafts, engines, helicopters, airplanes, special exhibits, and hands on educational interactive displays. Sit in a cockpit, climb an air traffic control tower and more! See a 1940's room, what a typical house looked liked during WWII. 500 Forrestal Rd, Cape May Airport, NJ.
Vietnam Era Museum & Educational Center
This Vietnam Era Museum helps visitors gain an understanding of the conflict in Southeast Asia and its lasting impact on American culture, with an emphasis on experiences in New Jersey. Vietnam Veteran Tour Guides will enhance your visit as you see the Wall of Faces, The Wall, and many of the Memorial sites on premise. 1 Memorial Lane, Holmdel NJ.

Through November 16, 2019: Above and Beyond - The History of the Medal of Honor Exhibit
Washington's Headquarters Museum
FREE. Learn about The 1779-80 Continental Army Winter Encampment in Morristown. The Military Gallery showcases Revolutionary War items - muskets, pistols, cannons, portraits, maps, and artwork. Tour the Ford Mansion, home of George Washington's military headquarters. 30 Washington Place, Morristown, NJ.