Calling all budding gardeners! Spring is here and the gardens will need your help after this long cold winter! This month features some great indoor flower shows that have organized fabulous exhibits, educational displays and fun things to do for the kids. Tiptoe through the tulips, topiaries and other colorful blooms, connect with nature and learn about everything from the soil, seeds, to planting and cooking. This is a great way to teach your child the love and appreciation for nature, earth and gardening! Listed below are some of the best gardening shows around.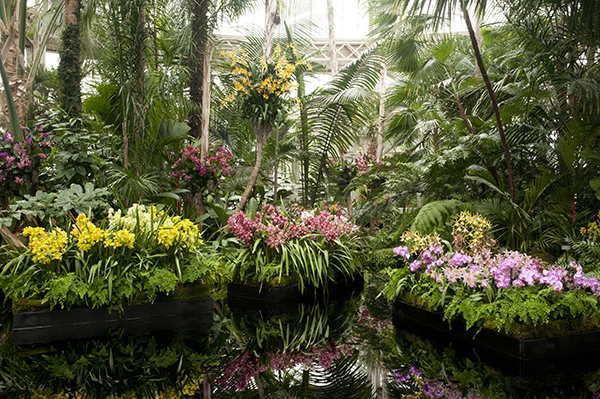 The Orchid Show at New York Botanical Garden
SpringFest Flower & Garden Show at New Jersey Botanical Garden
March 13-16
Visit the NJBG exhibit at one of New Jersey's best garden shows. Open 10a-5p daily at the Sussex County Fairgrounds in Augusta, NJ. With garden exhibits and displays, lectures, special events, a kids' zone and a super garden marketplace, it's a sure cure for cabin fever.
2 Morris Road, Ringwood, N.J. 07456,www.njbg.org
The Orchid Show: Key West Contemporary at New York Botanical Garden
March 1 - April 21
The Garden Island of Key West Comes to NYBG!
A mosaic of classic and exotic orchids greets visitors in the Enid A. Haupt Conservatory—a living design inspiration taking its cues from a modernist Key West estate garden. Throughout the exhibition, varied events and activities capture the artistic and cultural appeal of the Keys through live weekend music, a curated poetry walk, our much-loved Orchid Evenings, and more.
2900 Southern Blvd, Bronx, NY 10458, (718) 817-8700, www.nybg.org
New Jersey Home and Garden Show @ Atlantic City Convention Center
March 7-9
Don't miss your opportunity to turn your home and garden dreams into reality! The entire Atlantic City Convention Center will be completely transformed, for one weekend only, into a Home and Garden Extravaganza. From the front door to the backyard you'll find it all at the New Jersey Home & Garden Show.
1 Convention Blvd, Atlantic City, NJ. 609-348-7100. http://www.atlanticcitynj.com/visit/conventioncalendar.aspx
Philadelphia Flower Show at Philadelphia Convention Center
March 1-9
It is the world's oldest and largest indoor flower show, attracting more than 260,000 people annually. The Show features large-scale gardens, elaborate landscapes, and over-the-top floral creations. Visitors to the PHS Philadelphia Flower Show are treated to fabulous design, live entertainment, culinary demonstrations, gardening how-to workshops, and lectures by experts. Show week begins with an exclusive black-tie Preview Party and After Party, one of Philadelphia's premier events.
1101 Arch St, Philadelphia, PA 19107, 215-988-8800, theflowershow.com
Longwood Garden
Orchid Extravaganza - January 25–March 30
You don't have to travel a world away to escape the cold of winter…all you have to do is step through our doors. Living plants become works of art inside our lush, 4-acre Conservatory. Nearly 5,000 colorful orchids hang from baskets, create inspiring arrangements, and adorn unique forms throughout Orchid Extravaganza.
The North American Clivia Show and Symposium - March 15-16
Enjoy hundreds of perfect blooms when the North American Clivia Society brings its annual show to Longwood Gardens.
OrKid Days - March 22
OrKID Days are filled with fun and wonder for our youngest guests. On these select days during Orchid Extravaganza children can learn about orchids firsthand at discovery stations, go on a Winter Wonders Scavenger Hunt, and experience exciting stories at storytelling stations through our orchid-filled Conservatory.
1001 Longwood Road, Kennett Square, PA 19348, 610.388.1000, longwoodgardens.org
33rd Annual Making Brooklyn Bloom at Brooklyn Botanical Garden
Saturday, March 8, 2014
In honor of 100 years of BBG's groundbreaking Children's Garden, let's celebrate the ways that gardens provide common ground for bringing generations together. View exhibits from New York greening organizations. Take a seasonal guided walking tour of BBG (1–2 p.m.). Find out how to construct an indoor terrarium at the Garden Shop. Discover nature with kids at a BBG Discovery Station. Share your intergenerational gardening story on the Honor Wall.
April 26-27: Sakura Matsuri, the annual cherry blossom festival at BBG.
150 Eastern Parkway, 990 Washington Avenue, Brooklyn, NY. http://www.bbg.org
Nature and Environmental Centers and Arboretums
The Nature and Environmental Centers and Arboretums around you have great gardens too, with fabulous nature programs designed for kids, toddlers, teens, as well as mommy and me. There are great hands on workshops.
Macy's Flower Show - The Secret Garden
Sunday, March 23 - Sunday, April 6
Macy's Herald Square · Main Floor, New York City, NY.
Public Parks
As the weather gets warmer, go on an outdoor nature walk. In the gardens of the public parks, you'll be surprised to find all sorts of specialty gardens from the Azalea Garden in Warinanco Park, Rose Garden in Brookdale Park, Shakespeare Garden in Cedar Brook Park, Daffadils at the Reeves Reed Arboretum, and Magic Gardens at the Frelinghuysen Arboretum. Make it fun and go on a scavenger hunt. Wow, so many places to go and explore!