Since the day your child was born, you've done everything you can to help keep him or her safe. From installing child-proof (and sometimes adult-proof) latches on cupboards and cabinets to making sure your child always wore a helmet when biking or skateboarding, safety has always been one of your main concerns.
So now that your baby is — gulp — 16 years old and shopping for a first vehicle, it's natural that you will want to keep your fledgling driver as safe as possible when he or she is on the road. Fortunately, thanks to some modern-day features and some clever apps, a teen's first car can be as safe as possible.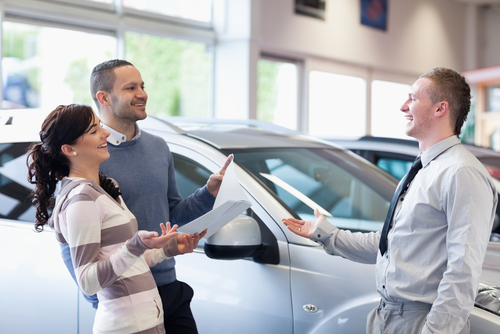 Consider new versus pre-owned
Although a used car can be cheaper to insure and will cost less out of pocket to purchase, a new car is a much safer option. In addition to not having to worry about maintenance issues and old parts breaking down, new cars tend to have all of the latest safety bells and whistles.
Research the safety features
When you were learning to drive, chances are the only safety feature your car possessed was working seatbelts. These days, cars come with a variety of built in and additional options that keep teens as safe as possible. As American Owners notes, purchase a car that is loaded with air bags — the more the better. In addition to dual front airbags, look at cars that offer side impact and side curtain airbags. For teens who are on the smaller side, it's important to find a vehicle that has an automatic or manual seat adjuster that will raise up the driver's seat enough to let him or her see safely over the wheel. Another important safety feature is Electronic Stability Control, which improves traction and helps avoid rolling over and spinning out. Before heading out to shop for a car with your teen, you might want to spend some time browsing online; looking at new cars through KBB can help you prepare a list of which vehicles you'll want your teen to test drive, and which ones do not have adequate safety features.
Keep the engine small
Yes, your teen is clamoring for a sports car with a huge engine with mega-horsepower. But to keep your teen as safe as possible, go with a small engine. A 4-cylinder engine will give teens enough power to maneuver around traffic and merge onto the freeway without tempting them to test just how fast they can go.
Use apps to keep tabs
Thanks to several clever apps, parents can help make their teens safer on the roads — even when they are not in the car. The Canary app lets parents know when their new driver has exceeded the speed limits you have determined to be safe, as well as when the teen has unlocked his or her phone when driving — a sign that texting might be taking place. The app, which costs $14.99 for an indefinite subscription and is available for iOS and Android devices, also alerts parents when a teen is violating a curfew time.