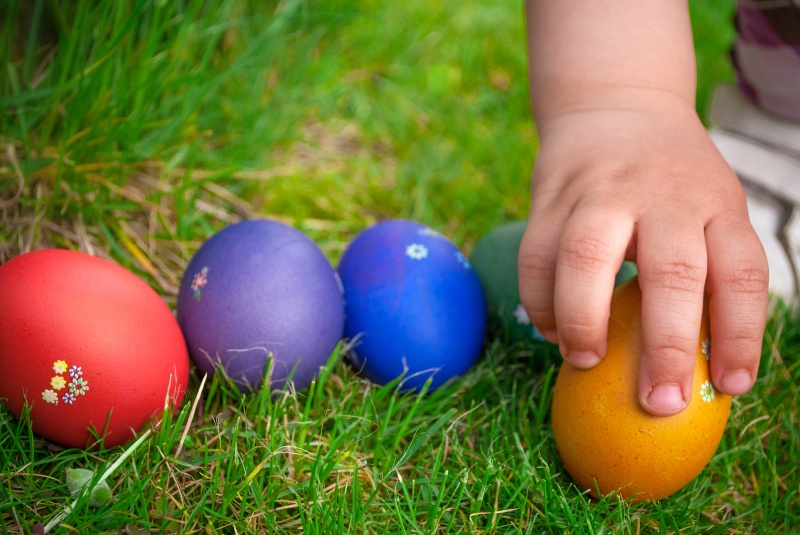 April 4 Super Bunny and his Super Friends! at New Jersey Children's Museum. Come meet the Easter Bunny and his special super hero friends as we celebrate the arrival of Spring. We'll serve pizza, beverages, snacks and desserts, have music, wonderful photo opportunities and of course an Easter egg hunt. Costumes, capes and other super hero accessories welcome! 599 Valley Health Plaza, Paramus, 201-262-5151
April 5 Breakfast with the Bunny at The Cranford Community Center. Join the Easter Bunny for an extra special breakfast. Children will color Easter pictures, make a simple craft, and get their picture taken with the Eater Bunny! (pleas bring your own camera). 220 Walnut Avenue, Cranford NJ
April 5 Fulper Family Farmstead's Easter Bash. Join them at the farm for a morning of unforgettable activities, including the Ultimate Easter Egg Hunt in the barn, hayrides, face-painting, cookie frosting, egg decorating, and more! Tour their milking parlor, calf barn, solar energy system, and green compost practices as well. Finish the afternoon with delicious fresh foods from the farm and get your picture taken with the Easter Bunny! 281 Rocktown-Lambertville Rd, Lambertville.
April 6 Bunny Brunch! at Palisades Center. Spend some time with the Easter Bunny this season at our Bunny Brunch! Children of all ages are invited with their families to spend the morning at the bunny patch, while enjoying a performance by Bossy Frog and festivities. 11000 Palisades Center Drive, West Nyack.
April 12 SpEGGtacular Hunt at the Bergen County Zoo. Join us at the Bergen County Zoo for this FREE family event ideal for children ages 1 to 10! Egg hunt kicks off at 10am. Meet the Easter Bunny from 11am - 1pm. Watch the animals participate in their own egg hunt. Enjoy refreshments, story telling and crafts. SPACE IS LIMITED! To pre-register for this FREE event. 216 Forest Avenue, Paramus. 201-262-3771 ext. 110. Bergen County.
April 12 Into The Woods' Family Picnic and Easter Egg Scavenger Hunt! at Fernbrook Farms. Bring the entire family out for a day of adventurous antics and high-end picnic fare as they kick off their FIRST EVER Easter Festival and Egg Hunt! Send the little ones on a Great Lawn egg hunt, while older kids scour the forest for hidden treasures and faeries in a Photo Scavenger Hunt! 142 Bordentown-Georgetown Rd, Chesterfield. 609-298-3868
April 12-13 Easter Activities at Imagine That!!! The Easter Bunny is coming! Let's create a funny bunny to take home! 4 Vreeland Rd. Florham Park. 973-966-8000
April 13 Easter Bunny Bounce. Bring the kids for an egg-ordinary Easter event and to meet the Easter Bunny! Search for eggs hidden in the giant inflatables. Special visit by the Easter Bunny for play and pictures! $15.00 child admission includes 90 minutes of play, festive games & activities, make-n-take craft project, and pizza lunch. 145 Ethel Road West, Piscataway. 732.572.PUMP

April 13 Eggs Bunnydict at Tenafly Nature Center. Meet a live rabbit and learn about these gentle, curious, and affectionate mammals. Create a basket using recycled paper and search for hidden candy eggs in the "magical" rabbit habitat along the woodland trails. Use natural dyes from fruit and vegetables to produce beautifully colored eggs. Please bring four hardboiled eggs to dye. 313 Hudson Avenue, Tenafly. 201 568 6093
April 19
20th Annual Chester's Easter Egg Hun
t 10am-12am. The Largest Easter Egg Hunt in Morris County, this fun, family-oriented Spring holiday event will feature over 6,000 eggs filled with candy and prized, and includes a competitive Jelly-Bean counting contest and confectionary-themed raffles. Entertainment and comedy and a special visit from the Easter Bunny! Main Street, Chester.
ilovechester.com
Morris County.
April 19
Easter in Ridgewood
11am-2pm. Meet the Easter bunny under the tent and have fun in Ridgewood! Memorial Park at Van Neste Square, Ridgewood.
ridgewoodchamber.com
. Bergen County.
April 19 Easter Egg Hunt at Grounds For Sculpture. Start your Easter weekend off at the Gazebo for our first Easter Egg Hunt. Hidden among the sculptures leading up to the Peacock Cafe you will find Easter eggs filled with all sorts of surprises. RSVP. 18 Fairgrounds Road, Hamilton. (609) 586-0616
April 19 Allaire Village Easter Egg Hunt 12pm-4pm. 10,000 eggs scattered all around the Village for kids to find! The egg hunt begins upon check in, eggs are first-come, first-serve. Other fun activities include music and dancing, crafts, visits from the Easter Bunny, historic demonstrations, and a bonnet parade at 2pm! Children under age 3 are admitted FREE. Call 732-919-3500 to pre-register (highly recommended). 4263 Atlantic Avenue, Farmingdale. 732-919-3500. allairevillage.org
April 19 Easter Bunny Breakfast in Historic Smithville. Enjoy a Buffet Breakfast and picture with the Easter Bunny at Fred & Ethel's Lantern Light. Reservations are required. Historic Smithville offers carousel ride, train ride, paddleboats, and over 26 free weekend events! 615 E. Moss Mill Rd, Smithville. 609-748-8999
April 19 Bunny Chase at Terhune Orchards. Come for a free, fun event all you young ones and their families. Follow the treasure hunt clues and find our spring surprise at the end of the hunt! Wonderful for children ages 2 – 8 years. Each child can make a bunny to take home; everyone can enjoy a Terhune Orchards bunny cookie. Enjoy wagon rides around the farm and pony rides too. 330 Cold Soil Road, Princeton
April 19 2nd Annual Life Source Church Community Egg Hunt. The egg hunt will feature thousands of candy and toy filled eggs and grand prizes to family fun centers in the area such as Jumpnasium of Fairfield. Reservation recommended. 31 Fairfield Avenue, West Caldwell. 973-226-8300
April 19 Mercer County Egg Hunts! Looking for a great egg hunt to attend with your family? 217church will host two large egg hunts. In addition to candy, egg seekers will also find prizes ranging from movie tickets to a family 4-pack of tickets to Six Flags. 2 Locations: Farmingdale Park, 1220 Nottingham Way, Hamilton, NJ. Grace Rogers Elementary School, 380 Stockton St, Hightstown, NJ. Josh@217church.com
April 20 Easter Parade in Historic Smithville 10am-3pm. Put on your Easter best and stroll the Village in style. Awards given for best outfits. Begins at the Smithville Inn, 609-749-8999.Historic Smithville offers 60 shoppes, 7 eateries, carousel ride, train ride, paddleboats, on site lodging at the Colonial Inn and over 26 FREE weekend events! 615 E. Moss Mill Rd., Smithville. 609-748-8999.
April 20 Breakfast with the Easter Bunny!!! Children & adults will enjoy a special breakfast of bagels with juice or coffee, followed by taking pictures of their little ones with the Easter Bunny!! All children will receive a special gift from the bunny too! 4 Vreeland Rd. Florham Park. 973-966-8000.
April 20 83rd Easter Promenade In Philadelphia. Hop on down to South Street for some FREE, egg-citing family fun. Enjoy parade, Easter treats, live music from the Philadelphia Freedom Band, the Bunny Hop, Mr. and Mrs. Peter Cottontail and much more. Contests! 430 South Street, Philadelphia, PA