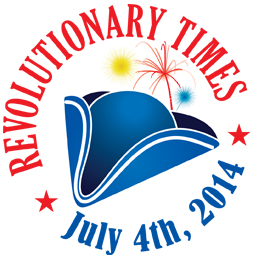 The Morris County Tourism Bureau, in conjunction with Morristown National Historical Park and its many partners, will host the annual reading of the Declaration of Independence on Friday, July 4th on the historic Morristown Green while celebrating the New Jersey's 350th anniversary (1664-2014).
This occasion has been selected by the New Jersey Historical Commission as its official LIBERTY event and will feature a special proclamation read by Freeholder Director Thomas Mastrangelo, as part of a year-long series of activities held throughout the state.
The festivities on the Morristown Green will begin at 11:00 a.m. with patriotic music provided by the Morris Music Men and Wire Harp, along with audience warm-up activities led by the inspiring NPS ranger and costumed interpreter, Eric Olsen. At 12:30 the Declaration of Independence will be read by talented NPS ranger, Tom Winslow, followed by the tolling of the bells and a musket salute. Free tours of the Presbyterian Church will be available after the reading. General George Washington visited the church in 1777 and the site boasts many connections to Morristown's colonial past. This event will highlight the critical role that the Morristown area played in the Revolutionary War.
MCTB's partners and sponsors include: Washington Association of New Jersey, North Jersey American Revolutionary Round Table, Daughters of the American Revolution-Morristown Chapter/Schuyler-Hamilton House, Crossroads of the America Revolution Heritage Area, Morristown National Historical Park, Morris Arts, Presbyterian Church, Morris County Heritage Commission, Shakespeare Theatre of NJ, Provident Bank Foundation, RevHealth, TransOptions and Robert Lloyd Coutts & Sons.
A ribbon-cutting ceremony will be held at 1:30 p.m. at Fort Nonsense, part of the Morristown National Historical Park, which recently underwent a significant 2014 renovation to improve the overall visitor experience to the former fort and look-out.
The Morris County Tourism Bureau is a Destination Marketing Organization that positively affects the economy of Morris County by promoting the area's exceptional historic, cultural and recreational opportunities by providing services to residents, business travelers and tourists.