Finding the right summer camp for special needs children is not always easy. There is so much to think about. As parents, there will be many questions that need answers. Will my child with special needs adapt to a summer camp environment? Will he or she have friends or other children to talk to, interact with, play with? Does the camp have enough fun activities to keep the campers busy, along with improving social skills and learning in general? Do the camp leaders and teachers have patience with my child? To see if a particular camp is a good fit, parents should speak to camp directors, tour the camp, and go the camp website to find more information. Below are some camps in NJ and NY that offer quality summer programs for your special needs child.
Camp Huntington
56 Bruceville Rd., High Falls, NY
845.687.7840 • www.camphuntington.com
Camp Huntington is a co-ed, residential program for children and young adults with special learning and developmental needs. Our summer camp programs are designed to maximize a child's potential, locate and develop strengths and hidden abilities. Your child will enjoy the fun-filled days of summer camp while learning practical social and life skills. We offer a unique adaptive therapeutic recreation program, which encourages progress-making, and can also meet IEP goals.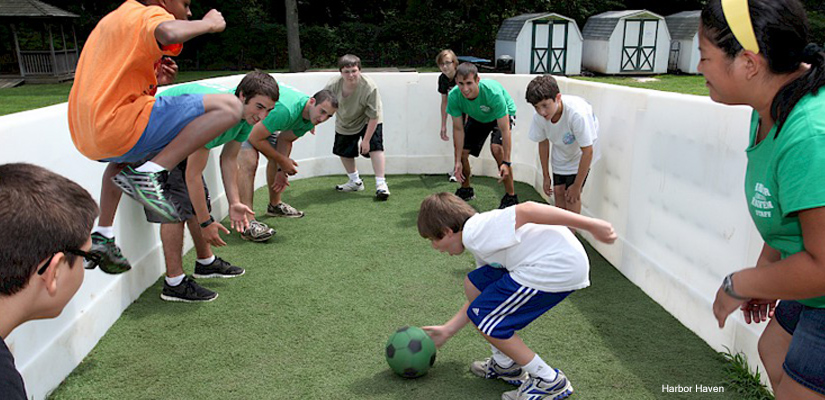 Harbor Haven Summer Camp

908.964.5411 • www.harborhaven.com • info@harborhaven.com
Come, learn and grow. Give your child with mild special needs a summer of opportunities to build skills and build confidence. We offer comprehensive programming for ages 3-15 in social skills, speech and occupational therapy, and academics. Fun summer activities include swimming, sports, biking, arts, science and more! Our campers will take part in special events, entertainment, and field trips. For ages 16-18, we offer a 5 week LIFE Program and 2 week TravelQuest Program. Harbor Haven is a private school campus located in West Orange NJ and we serve students in New Jersey and Manhattan. Transportation provided in most cases.
HI-STEP® Summer Social Skills Program
3 Locations serving North, Central & South Jersey
732.873.1212 • www.BehaviorTherapyAssociates.com • histep@comcast.net
Helping Improve Social-Skills Through Evidence-based Practices (HI-STEP), celebrating 20 years; 5-week ESY Program providing children (6-17) social-emotional learning, problem-solving skills, individualized attention, structured sports/recreational activities, creative arts, and positive peer interactions. Emphasizes fun, learning, skill-building, and generalization. Highly structured, ongoing supervision, small-group, and reinforcement. Parent feedback and strategies for generalization.