Summer is an important time of the year for all kids, and camp is one of the most amazing experiences a child can have. It's a precious time for kids because they are finally outside the boundaries of the classroom, and depending on what camp you choose, your child can learn and grow, expand their interests, and go beyond their comfort zone.
Flip through NJ KIDS' Ultimate Guide to Summer and research. Or link directly to the camp website and find out what activities are lined up. Contact them to find out which camp fairs they will be attending this upcoming winter 2023. Includes summer camp fair directory, who's participating in the camp fairs.
Ultimate Guide to Summer Camps 2023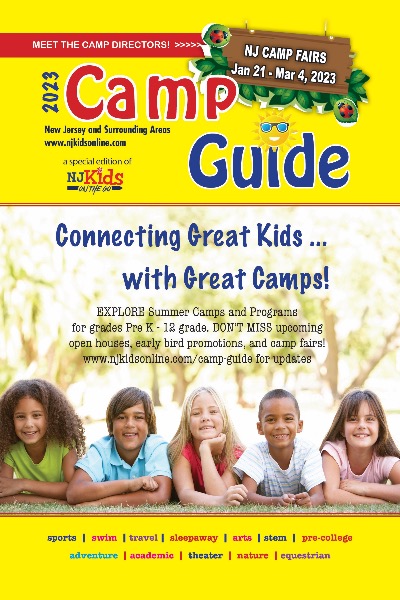 INSIDE: sports | swim | traditional | travel | sleep-away | nature | stem | pre-college | for Grades Pre K - 12
Play is a powerful form of learning that contributes to a child's healthy physical, emotional, social and intellectual development. Depending upon the camp you select for your child, he or she can grow leaps and bounds, just in one summer.
This printed version of the Camp Guide is distributed before, during and after the annual NJ Camp Fairs, which attracts thousands of families throughout NJ. It's an annual comprehensive guide to camps. You may also want to flip through the NJ KIDS ON the GO! monthly editions for a summer program in your local area.
---
Flip through our other ebook editions:
Latest NJ KIDS monthly edition: LINK
Latest NJ KIDS Special Needs edition: LINK
Latest NJ KIDS Field Trip Guide edition: LINK