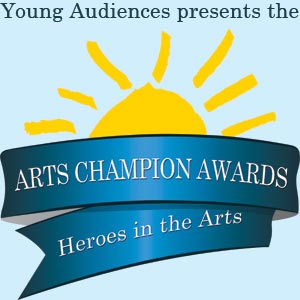 Young Audiences New Jersey & Eastern Pennsylvania (YA) has announced the continuation of their initiative to celebrate and recognize excellence, innovation, and creativity in the communities they serve by presenting the Young Audiences Arts Champion Awards.
YA will give out monthly awards from September 2014-June 2015 that will highlight a school, organization, educator or student that demonstrate passion and dedication to the arts.
"We believe the power of the arts can change lives and communities, shared Laurence Capo, President & CEO of Young Audiences New Jersey & Eastern Pennsylvania. "The Young Audiences Arts Champion Awards is a wonderful opportunity for us to encourage and honor "heroes in the arts" that have distinguished themselves as advocates for the arts in their communities,"
Do you know of a student, educator, organization, or school that is a hero in the arts? Help YA recognize them! Email Denyce Mylson at dmylson@yanj.org to share who they are and why they are a Hero in the Arts!
Young Audiences 2013-2014 Arts Champion Awards recipients include:
Educators:
Ellen Kazar – Brooks Crossing Elementary School, Monmouth Junction, NJ
Jeneya Nelson – Franklin School, Trenton, NJ
Betsy Golden – William Paterson University, Wayne, NJ
Eric Thomas – Frank O'Brien Academy, Ewing Township
Jordana Sheer – Harrison Alternative Middle School, Trenton, NJ
Christine Phillips – Fashion University Summer Camp
James Flynn – Burlington City High School, Burlington, NJ
Organizations:
Parkway Central Library – Philadelphia, PA
Eat Right Now – Philadelphia, PA
Highland Park Education Foundation – Highland Park, NJ
Hopewell Valley Education Foundation – Hopewell, NJ
Cumberland Empowerment Center – Vineland, NJ
Lavallette Elementary School PTO, Lavallette, NJ
Schools:
ECO Charter School – Camden, NJ
Mott School – Trenton, NJ
Mother Teresa Regional Catholic School – King of Prussia, PA
Bright Horizons – Spotswood, NJ
Wilbur Watts Intermediate School – Burlington, NJ
School 24 – Paterson, NJ
Princeton Day School – Princeton, NJ
Students:
Jorge Campos – Paul Robeson Charter School, Trenton, NJ
Rithikaa Rajendren – Grandview Elementary School, Piscataway, NJ
Akeeta Harris – Trenton Central High School, Trenton, NJ
Aahna Olita – Atlantic County Special Services School, Mays Landing, NJ
Kenneth Rodriguez - Harrison Alternative Middle School, Trenton, NJ
Emmanuella Boateng – Samsel Upper Elementary School, Parlin, NJ
About Young Audiences
Founded in 1973, Young Audiences New Jersey & Eastern Pennsylvania is the premiere arts-in-education resource in the region, providing high-quality performances and artist-in-residence programs to nearly 500,000 children pre-kindergarten through 12th grade annually. Young Audiences' extensive professional artist roster represents all art forms—from dance and theater to music, language and visual arts.
Young Audiences' programs are accessible to all socio-economic, ethnic, cultural, and geographic communities, and are designed to strengthen the arts in schools, meet local and state curriculum standards, involve families in arts activities, and enrich cultural life in New Jersey and Pennsylvania communities.
Young Audiences New Jersey & Pennsylvania is the first arts education organization designated as a major service organization by the New Jersey State Council on the Arts, and, as part of the national network of Young Audiences, Inc. was awarded the National Medal of Arts by President Clinton. Young Audiences provides over 4,000 programs annually and are made possible in part through a grant from the New Jersey State Council on the Arts/Department of State and Pennsylvania Council of the Arts. Additional funds come from the National Endowment for the Arts, foundations, corporations and generous individuals.
To learn more, visit www.yanj-yaep.org. To be "social" with us, join us on Facebook and Twitter