The Art Studio With A "twist" Gives Percentage Of Monthly Profits To A List Of Charities
Location In The Whole Foods Plaza Will Host Private Events, Fundraisers And Birthday Parties
Owner and entrepreneur Efe Amoah Cierkowski today announced the March 11, 2016 opening of A Sip of Art located in the popular Whole Foods Plaza at 235 Prospect Avenue in West Orange, NJ. The studio offers customers the opportunity to relax, revitalize and express their creativity through painting and being with friends. In addition to regular paint classes, private parties, children's birthday parties and special events will all be part of the monthly schedule.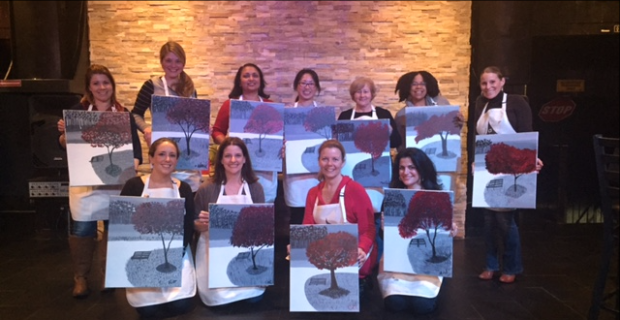 "We can't wait to open and provide a fun, relaxing and creative experience to all of our customers!" Efe adds, " and in addition we are so proud to be opening the studio in West Orange and we look forward to greeting our customers and meeting the members of this great community!"
A Sip of Art is the art studio with a "twist" in that the locally owned business will give a monthly percentage of profits to a rolling list of charitable organizations A Sip of Art will be donating a percentage of profits to a selected list of charitable organizations including St. Barnabas NeoNatal ICU, Allyson Whitney Foundation (www.allysonwhitney.org) and Pink for Africa among others. "My children were born prematurely and were given excellent care at the St. Barnabas NICU. We are happy to help them to continue to provide excellent care for other families in need. In addition, organizations such as Allyson Whitney Foundation and Pink For Africa along with other soon to be announced partners provide a wide range of help and services in many different areas of need from Young Adults with Rare Cancers to Animal rescue to building schools for countries in need."
People can come, paint their "masterpieces", while enjoying their BYOB wine and friends and at the same time, help a charity. Efe will fulfill her lifelong dream to combine running a business and also doing good works for her community, country and world.
Efe continues, "My favorite quote is "to whom much is given, much is expected". I combine that with gratitude so the idea of giving back to charitable causes with a percentage of our revenue is a natural outgrowth.
West Orange's own, A Sip of Art is already offering painting classes and parties and can be booked easily online here: www.asipofART.com
CONTACT A SIP OF ART:
235 Prospect Avenue, West Orange, NJ
Phone: 973.255.6815
e: info@asipofart.com