Highlighting some ideas and attractions from our Museum list, many of which have free admissions. Luckily, we've got many places and things to do where you don't have to spend a fortune. Many of these incorporate some great history lessons.
Here are all sorts of museum attractions, with bonus ideas to take the kids for the day.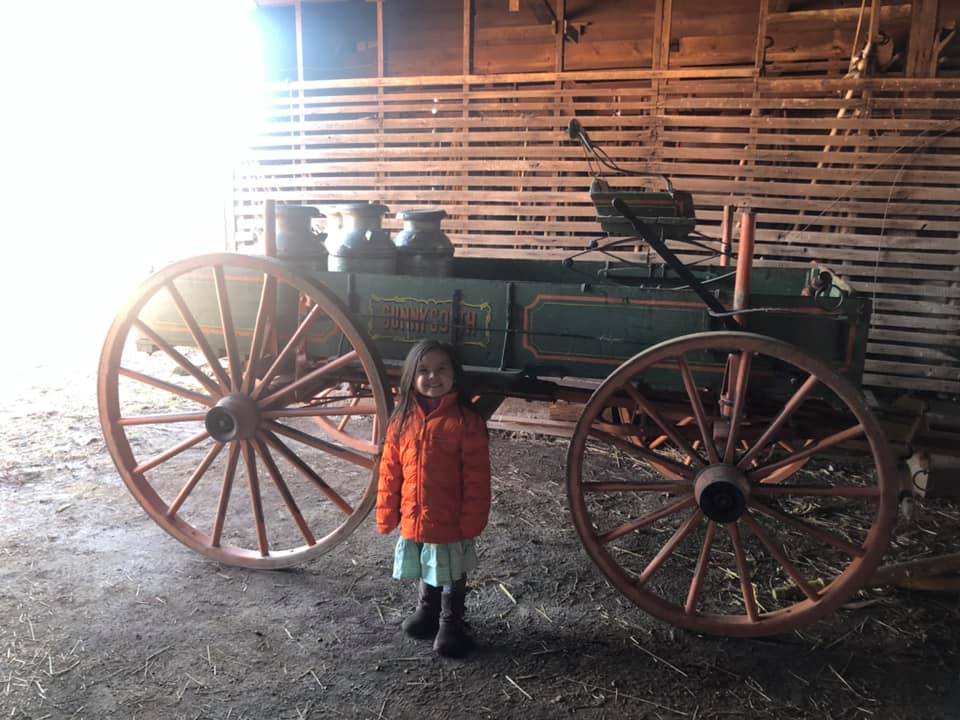 Photo from Howell Living History Museum
Howell Living History Museum – It's great to get kids involved with heavy duty farm work. This working historical farm demonstrates life from the 1700s; sites include animals, crops, barns, farmhouse and more. You can enroll in their kids programs called FarmHands, where you can join in farm chores, crafts, and games and to seasonal activities which are part of the Farm's actual operation while a parent volunteers their time helping with other farm activities. There's also a hatchery program that introduces kids to animals, crops and farm living through hands-on activities that are safe, fun and educational. BONUS: They offer a number of special events and activities every month. This is part of the Mercer County Parks System. Check out their website www.howellfarm.org
Rutgers Geology Museum - Explore Geology! The collections of the Rutgers Geology Museum date from 1836 its collections include minerals, fossils, and geologic specimens and emphasize the geology of New Jersey and surrounding states. BONUS: Once a month on Saturday, the Geology Museum offers guided tours to pre-arranged groups on the weekends. There is no cost for the tour, you need a group of 10 or more to request a tour. Also, each year the Rutgers Geology Museum sponsors a gem, mineral and fossil show at the Annual Open House, considered on of the largest in NJ. Browse a selection for rare and beautiful rocks, minerals and fossils from NJ and around the world. Kids can participate in interactive activities, make and take activities, kids lectures to learn more the latest discoveries, and you can explore museum exhibits at no cost. Located on Rutgers University Campus.
The New Jersey Naval Museum – Museums and grounds are free, but there's a fee for the guided tours (not expensive, but worth it!). In the museum, you will find lots of cool gadgets and a collection of unique items that were used during the WWII, along with authentic torpedoes and submarines. BONUS: It's worth spending 20 minutes to tour the actual USS Ling submarine where you can experience life underneath the sea. Your kids won't believe how sailors spent their days under the sea without fresh air and showers! Hackensack, Bergen County
Silverball Pinball Museum - Located in Ashbury Park, NJ this pinball museum is a living, breathing and blinking tribute to our pinball and video gaming past. With 600 games in rotation, you and the kids will enjoy looking and playing. Of you are down the shore, this is a must stop in experience. BONUS: play games! It's cool how mechanical and so much slower everything was.
Newark Museum - For the price of admission (kids under 2 are free; otherwise $8 for children) you can come during the weekend and stay most of the day. They offer Creative Play for 3-5 yrs on the 1st & 3rd Saturdays at 10 & 11am where you can explore the Museum's art and science collections through storytelling, song, playful activities and an art-making project; Family Gallery Programs on Saturdays, 1-4 pm; Weekend Family Programs (Self-Guided) on Saturdays & Sundays, noon-5 pm; and MakerSPACE Drop-in Programs - Saturdays & Sundays, 1-4 pm where kids can get creative with blocks and digital and computer tools and stay as long as you like. BONUS: Red, Yellow & Blue Gallery Guides -- These guides were developed to encourage 3-5 year olds and their families to discover together. They are available for free with Museum admission at the Front Desk and in the Education Lobby. There's also a planetarium of stars to see.
Montclair Art Museum – Admission is free the first Thursday of the month from October through June, 5–9 p.m., and enjoy an evening of free art and dynamic programming. Bonus for kids: Draw Along Workshop - all ages are invited to get creative in a free drop-in session with a clothed model, Teen Space - this new open studio is available just for teens! 7-9 p.m. during Yard School of Art semesters, Live Music, Free tours, Food Vendors. They have several free family activities and events during the year.
Morris Museum – The museum covers just about everything - art, dinosaurs, mammals, rocks and gems. The Museum is open from 11:00AM – 8:00PM on the second and third Thursday of each month. On those days, admission is pay what you wish from 4-8PM.
BONUS: Look for their family fun days: Upcoming is Dino Day on April 27, 2019.
NJ State Museum – The NJ State Museum is really 4 Museums in 1: Fine Arts, Archeology, Cultural History, and Natural History – and all relate to NJ! BONUS: They offer ongoing activities and events from story time, gallery carts and scavenger hunt (pick up clues at Information Desk)
Thomas Edison Center at Menlo Park – This small museum is dedicated to Thomas Edison and his work. Enjoy a fully escorted tour, view original artifacts, listen to 100+ year old Edison Phonographs, and learn about the wonders that took place at Thomas Edison's historic Menlo Park. Public hours are Thursday – Saturday 10am-4pm, large group tours are available on additional days, when available. Bonus: Enjoy a walk on the guided nature trail through this lovely 36-acre state park. Or picnic in the renovated Edison State Park.
Thomas Edison National Historical Park at West Orange - This museum and house gives a fascinating history of Thomas Edison. This little gem will give you an idea of how Edison worked, discovered and achieved his successes, which changed the way the world operated. There's a few videos before you go on a site tour of over 20 stops from his library, laboratories, factory classrooms, grounds and more. You will get an extreme amount of historical information from an exciting time in America. The laboratory was a favorite for kids because of the amazing discoveries there. BONUS: Take a tranquil stroll through the park, and tour the Edison House at Glenmont in Llewellyn Park, where you will see the Victorian Queen Anne architecture with an intriguing story about it's first owner.
West Point Military Academy, NY – Take a one hour (or two hour) bus tour onsite and you will learn history! There's an onsite museum - The West Point Military Museum featuring a great weapons exhibit, you will see a full scale cadet barracks room, a cadet uniform room. The building is home to 27,000 square feet of displays and exhibits. BONUS: You will see Cadets onsite training and on duty. We saw one that had to stand guard for some 30 hours straight. If it's a nice day, explore the grounds, have a picnic. Nearby, check out Storm King and Bannersman's Castle, both are great day trips on a nice day. Make sure you bring your camera.
Statue of Liberty National Monument – Visiting Liberty Island is one of the most rewarding experiences, but anyone who wishes to enter the museum, pedestal or crown museum must secure reservations. There is no entrance fee to enter the Statue of Liberty or Ellis Island.
The most widely available ticket is the grounds only. Pedestal and crown tickets are limited and advanced reservations are recommended. There is no fee for pedestal access. Crown fee of $3 is in addition to the ferry fee. Ferry fee is free for children under 4. Ferry Reservations are required, and includes a Pedestal access. BONUS: The ferry ride in itself is fun for the kids! Stroll along the HighLine nearby, walk the greenway paths along the Hudson. While you're there, visit the Intrepid, play at Chelsea Piers, wander around in Chelsea Market, rent some bikes and ride on the bike paths (no hills, but just follow bike path rules).
Museum at Fashion Institute, NYC – Check out their changing (and fascinating) fashion exhibits. Kids will love to see how fashion has progressed throughout history. If you're in the city, and your kids like fashion, this is a quick walk through. BONUS: Some neat art up front. Take photos. Plus you are in NYC! You're in the fashion district, and steps away from 42nd St, Broadway and shopping.
The Metropolitan Museum of Art, NYC - The Met has so much to offer kids and their families. Free drop-in programs for kids. Family Programs at The Cloisters. They ask that you pay the recommended admission price, but not required to pay the full amount. 1000 Fifth Ave, NYC. BONUS: You're on 5th Avenue, and steps away from Central Park!