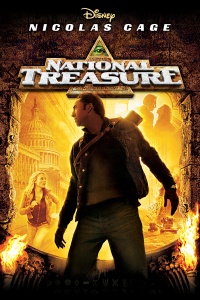 I love summer. In our family, summer means barbecues, beach time, fun gatherings and, of course, Fourth of July celebrations. There's usually a movie or two involved (but of course!), and what better time to watch a patriotic movie than on the birthday of our nation? Here are 12 patriotic movies the whole family can watch together.
1. NATIONAL TREASURE (2004; PG for action violence and some scary images). With his dry wit and slightly insane facial expressions, Nicolas Cage is perfect as Benjamin Franklin Gates, a historian and amateur cryptologist who's searching for a lost treasure of precious metals, jewelry, artwork and other artifacts, which hark back to Ancient Egypt, the Knights Templar, the American Freemasons, the Founding Fathers, and the American Revolutionary War. Whew – that's a lot of history! All crafted into this crazy, fun, entertaining movie with a line that only Nic Cage could deliver so well: "I'm going to steal the Declaration of Independence." (Because there's a hidden map on the back that leads to the treasure!) Directed by Jon Turteltaub, the stellar cast also includes Diane Kruger, Justin Bartha, Sean Bean, Jon Voight, Harvey Keitel and Christopher Plummer.
2. INDEPENDENCE DAY (1996; PG-13 for sci-fi destruction and violence). There it is, right there in the title. "Independence Day." Also known as the 4th of July. Roland Emmerich's 1996 blockbuster is the 42nd highest-grossing film of all time (just think about that for a second – ALL TIME!). It also established Will Smith as an action hero. He's great as a quippy Marine Corps captain who must save the United States after an invasion by aliens, aided by a cast you'd never think would mesh, but totally does: Bill Pullman, Jeff Goldblum, Mary McDonnell, Judd Hirsch, Robert Loggia, Randy Quaid, and Margaret Colin, among them. The amazing special effects landed an Oscar for Best Visual Effects. It's PG-13, but fine for kids 11 and older.
3. MR. SMITH GOES TO WASHINGTON (1939; not rated). Let's go back a generation or two, when Jimmy Stewart played newbie politician Jefferson Smith, leader of the Boy Rangers. After being appointed on a lark by the spineless governor of his state, Smith heads to Washington and discovers many shortcomings of the political process (some things never change). His goal of establishing a national boys' camp leads to conflict with the state political boss, Jim Taylor, who tries to destroy Smith. Still, the young politician believes that the average American can make a difference in the future of the country. Directed by Frank Capra, this film is as relevant now as it was 75 years ago.
4. THE INCREDIBLES (2004; PG for action violence). What's more patriotic than a family of superheroes out to save the world? Even better if they're in a Pixar movie that takes the superhero genre and turns it on its head. These characters are, first of all, a family unit, who learn to work together and use their super-powers for good. The action scenes are just as good, if not better, than any live-action movie, and the voice cast is terrific: Craig T. Nelson as Bob Parr, an overweight office worker who's getting back into the superhero business; his wife Helen, a.k.a. Elasti-Girl; and kids Violet, Dash and young Jack-Jack, all bestowed with special powers. Director Brad Bird has crafted a movie that's really fun for kids, teens and grownups. "The Incredibles" is one of my favorite movies of all time, and I'm super excited that there's a sequel in the works.
5. BIG MIRACLE (2012; PG for language). It's 1988, and news reporter Adam Carlson (John Krasinski) is in the tiny town of Barrow, Alaska, when he discovers a family of three gray whales trapped in the icy waters off shore. Soon, his adorable ex-girlfriend (Drew Barrymore) and a bevy of reporters and environmentalists head north to help the whales reach open water. Based on the book "Freeing the Whales" by Thomas Rose, "Big Miracle" shows what happens when people — even the U.S. government and Soviet Union, in this case — come together for the greater good. It also made my Top 15 Family Movies of 2012.
6. LINCOLN (2012; PG-13 for an intense scene of war violence, some images of carnage and brief strong language). If there was any doubt that Daniel Day-Lewis is one of the most brilliant actors of this generation, watching him imbue Abraham Lincoln with such complex humanity confirms it. There's not one moment where you feel like you're watching an actor play a role. The film is also a great history lesson, focusing on the nuts and bolts of legislative and presidential processes, while giving us an inside look at one of the most tumultuous times in our country's history. Kudos to director Steven Spielberg for bringing the past alive. It's PG-13 but ok for kids 12 and older, and a great history lesson. Read my review here.
7. YANKEE DOODLE DANDY (1942; rated G). If it's unabashed patriotism and flag-waving you're after, check out this movie directed by Michael Curtiz that follows the life of entertainer George M. Cohan (James Cagney), including his birth (reportedly on July 4th) and his rise to fame as a singer, songwriter, actor and playwright. Best of all are the hugely awesome musical numbers, including "Yankee Doodle Boy," "Over There," and "Harrigan." Filming began just days before the attack on Pearl Harbor and helped to inspire American soldiers heading for foreign shores.
8. CAPTAIN AMERICA: THE WINTER SOLDIER (2014; PG-13 for intense sequences of violence, gunplay and action throughout). Decked out in red, white and blue, this Marvel superhero is definitely the most patriotic of the bunch. This second installment of the "Captain America" franchise finds Chris Evans reprising the role of Steve Rogers and struggling to embrace his role in the modern world. But of course, there's trouble brewing. He's battling a new threat from the past — Soviet agent The Winter Soldier — he's on the Most Wanted list, and Black Widow (Scarlett Johansson) keeps trying to fix him up with a girl. In short, Steve's having a very bad day. Which makes for a very good movie. It's PG-13, but ok for kids 12 and older. Captain America is a decent role model for kids – loyal, honest, and trustworthy. Read my review here.
9. THE MUSIC MAN (1962; not rated). It's July 1912, and traveling salesman "Professor" Harold Hill (Robert Preston) arrives in the fictional town of River City, Iowa, masquerading as a traveling band instructor intent on conning the townsfolk into paying him to create a marching band. Once he's collected the cash and the instruments and uniforms have arrived, he'll hop the next train out of town, leaving them without their money or a band. With a snappy musical score that includes "Ya Got Trouble," "Till There Was You," and "Seventy-Six Trombones," it's easy to see why "The Music Man" was selected for preservation in the U.S. National Film Registry by the Library of Congress as being "culturally, historically, or aesthetically significant." Shipoopi!
10. ROCKY (1976; PG). Sylvester Stallone plays the title character in this sleeper hit that cost $1 million to make, was shot in 28 days, earned three Oscars, including Best Picture, and spawned five sequels. And it's the perfect American Dream story. Rocky Balboa is a struggling boxer in Philadelphia, working as a debt collector for a pittance. When he finds himself in an exhibition match with heavyweight champ Apollo Creed (Carl Weathers), everyone expects Creed to easily win. Except Rocky, who sees this as his only shot at the big time. Talia Shire, Burt Young and Burgess Meredith fill out the cast in this classic movie directed by John Avildsen and written by Stallone (who wrote and directed four of the sequels).
11. MIRACLE (2004; PG for language and some rough sports action). "Do you believe in miracles?" That's the question broadcaster Al Michaels asked, and the nation responded with a resounding "Yes!" Based on the true story of one of the greatest moments in sports history, "Miracle" takes place in 1980, when the U.S. Ice Hockey team's coach, Herb Brooks (Kurt Russell), took a ragtag group of college kids up against the legendary juggernaut from the Soviet Union at the Olympic Games. Despite incredible odds, Team USA rose to the occasion and carried the pride of a nation with them. Go, USA!
12. APOLLO 13 (1995; PG for language and emotional intensity). This movie contains one of my favorite scenes in any movie ever: Houston's Mission Control Center is waiting for Apollo 13 to re-enter the earth's atmosphere after a disastrous space mission. The camera pans to the anxious families watching the TV broadcast, as Ken Mattingly (Gary Sinise) asks over and over into his mic, "Odyssey, this is Houston. Do you read me?" After several tense minutes, finally we hear astronaut Jim Lovell (Tom Hanks) respond with, "Hello, Houston. This is Odyssey. It's good to see you again." Yes! Best scene ever!!! And a great history lesson about not only the Apollo 13 mission, but also the U.S. space program. Directed by Opie, I mean Ron Howard, the cast also includes Bill Paxton, Kevin Bacon, Ed Harris and Kathleen Quinlan.


Jane Boursaw is the film critic and editor-in-chief of Reel Life With Jane. Contact her at jboursaw@charter.net and check out the shop for fresh editorial content. Visit her at http://www.reellifewithjane.com, email jboursaw, or Google+