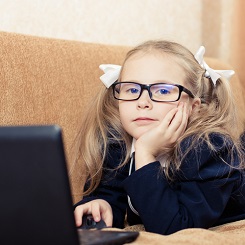 Many common vision problems are easily corrected with glasses or contact lenses, leaving the patient in question with improved sight and better equipped to take on the world. Since patients of the smaller variety are generally not considered ideal candidates for contacts, however, kids are generally restricted to corrective lenses in the form of eyeglasses. At such a delicate time in your child's life, being forced to wear these oft-maligned accessories can be a downright traumatic experience. With the proper preparation and plenty of patience, however, you can help your child adjust to wearing glasses with minimal fuss or despair. These ten tips can help your little one get used to her glasses in no time, making life easier for everyone involved.
Prepare in Advance – There will almost certainly be a period of at least a few days between receiving the news that your child needs glasses and their completion, since the lenses and frames will have to be created and assembled. Use that time to talk about getting used to new glasses, but keep your tone as matter-of-fact as possible.
Give Her Some Control Over the Situation – A child will be more eager to wear her glasses when she's had a bit of control over the situation and can take ownership of her new accessory. Let your child take part in the frame selection process, so that she's wearing something she likes rather than having glasses she doesn't care for foisted upon her.
Make Putting on Glasses Part of Her Morning Routine – The most difficult part of adjusting to new glasses for many kids is simply remembering to put them on in the morning. Making that task part of the morning routine helps her to get into the habit of wearing her glasses. Remember that the more your child wears her glasses on a consistent basis, the easier it will be for her to accept them as part of her life.
Make a Point of Acknowledging Voluntary Wear – If getting your child to wear her glasses proves to be a struggle in the first few days after they arrive, make a point of praising her any time she puts them on of her own volition, without being reminded to do so. Kids need praise and acknowledgment, and your efforts to provide that will pay off in the form of a child who's more willing to make a point of remembering her eyewear.
Don't Nag! – When your child doesn't want to wear her glasses and you feel as if you're constantly reminding her to put them on, it's not always easy to keep a firm grip on your composure. Nagging, punishments or shouting only cause the wearing of glasses to be surrounded by negative connotations, making everything more difficult for her. Remind your child to put on her glasses, but avoid causing a scene over them.
Point Out Pop Culture Icons Who Wear Glasses – What do Superman, Taylor Swift, Harry Potter, Velma from Scooby Doo, Justin Bieber, Katy Perry, Joe Jonas and Peter Parker have in common? They've all been spotted sporting glasses. Pointing out teen stars, pop culture icons and characters who wear glasses can help your child to identify more with not only her glasses, but also the people she admires who share her need for them.
Ensure a Proper Fit – You will inevitably have a difficult time helping your child grow accustomed to her new glasses if they're overly uncomfortable due to an improper fit. Make sure that your child's glasses fit perfectly and that they are comfortable for her to wear.
Get Ready for Teasing – While you may not want to broach the subject with your child before it's necessary, it's wise to get yourself ready for the fact that some mean-spirited classmate will inevitably poke fun at her frames. Have a response ready for the first time she comes home in tears after being teased, and make sure that you don't minimize her feelings in the process.
Work With Your Child's Eye Doctor – One of your most valuable allies in the battle to help your child get used to wearing her glasses will be her eye doctor. Optometrists that work with kids on a regular basis have a slew of tricks up their sleeves for helping kids get excited about wearing their glasses, so don't be afraid to enlist the help of your child's doctor.
Be Patient – As with most big changes in a child's life, getting used to new glasses will take time. It's important that you remain optimistic and keep a firm grip on your patience throughout the process, so that you're adequately equipped to help the adjustment phase run as smoothly as possible.
Courtesy of http://www.babysitting.net