Neil Klatskin Day Camp at Kaplen JCC on the Palisades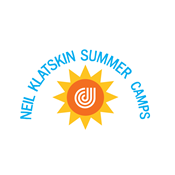 At Neil Klatskin Day Camps kids rule the day!
We offer children choices and unique opportunities to participate in a diverse range of activities based on their interests. Everything we do, every relationship we build, is rooted in Jewish values. We encourage and support every camper to stretch their talents, create lifelong friendships, and develop a love of the outdoors! Our camps are situated on an incredible 21-acre property. The campus features three heated pools, a water park and splash pad, sports fields, tennis courts, basketball courts, an exhilarating challenge course with zip line, and multiple playgrounds. Camp also has use of the indoor JCC facilities with dozens of air-conditioned classrooms, gyms, racquetball courts, a kosher, nut-aware kitchen, dance studios, and a theater.
Your camper will learn new skills and explore what he/she loves in our dynamic programming that includes sports, Red Cross instructional and recreational swim, dance, art, drama, music, Judaic programming, special events and more.

The Neil Klatskin Day Camp is an ACA affiliated Camp.
Visit us at the Bergen Town Center Camp Fair on Jan. 22, 2022