Oak Knoll Summer Programs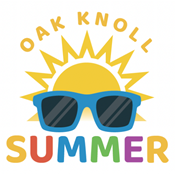 Oak Knoll Summer Programs and
Day Camp in Summit, NJ
A Summer Adventure is Waiting for You!
Located on the beautiful 11-acre campus of Oak Knoll School in Summit, New Jersey, our summer programs offer excitement and fun for children ages 3-17.
Summer Adventures Day Camp

(June 27 to August 12, 2022) — Our ACA-accredited day camp offers swimming, fencing, science and nature, sports, arts, and more! We create an environment where your child can make new friends while creating lasting memories.

Career Series

— What do you want to be when you grow up? High school students will spend 1 hour/week virtually with an expert in a chosen field.

Kindergarten Ready

— (July 5 - July 29) Your child will be prepared to start kindergarten in the fall with confidence.




June Mini Camps

(June 13-24, 2022) — Mini Sessions ... great big fun!

Summer Scholars

(Summer 2022) — Middle/high school students have the opportunity to preview/review topics such as Geometry, Algebra, Physics, and English, along with enrichment opportunities.

Youth Sports Camps

(Summer 2022) — Football, field hockey, soccer and more.
Save the dates!
Visit us at the camp fair at the Grand Summit Hotel in Summit, NJ, on Sunday, Jan 23, 2022 from 12 - 3 pm.
Join us for our Summer Programs Open House, 44 Blackburn Road in Summit, March 6, 2022, from 1-3 p.m.

Online registration opens January 18, 2022
The Summer Adventures program is accredited by American Camp Association (ACA).