The Elisabeth Morrow School's Summer Explorations - ON-SITE CAMP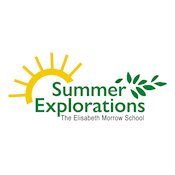 Summer Explorations Summer Camp of The Elisabeth Morrow School
On-Site Camp in Englewood NJ
Summer Explorations, the summer program of The Elisabeth Morrow School, will be offered from June 28 through August 6, 2021. They are excited to welcome new and returning students to our beautiful 14-acre campus in Englewood, NJ for a summer filled with learning, exploring, creating, playing, and more.
Students, ages 2 through grade 9, will find the perfect blend of learning and fun under the care and supervision of our dedicated and experienced teachers and staff. Weekly programs with full and half day options will be offered for all students and include a wide variety of speciality programs, theme days, outdoor play, and much, much more.
School-wide COVID-19 policies and procedures will continue to be followed, including the use appropriate PPE, social distancing practices, high quality HEPA filtration, extra cleaning and sanitation, newly designed classroom spaces, highly trained faculty and staff, and much more!