The Elisabeth Morrow School's Summer Explorations - ON-SITE CAMP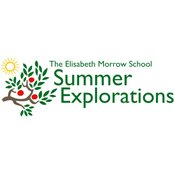 Summer Explorations Summer Camp of The Elisabeth Morrow School
ON-SITE CAMP @ ENGLEWOOD, NJ
Explorations On-Site 2020 from July 6-31 will be offered 2 two-week sessions with speciality programs in art, nature explorations, fitness, drama, filmmaking, STEAM and more!

We are pleased to have certified teachers leading small cohort groups in programming on our beautiful 14 acre wooded campus with plenty of outdoor and indoor learning spaces. 8:30 a.m. to 3:00 p.m.

Two week speciality programs with small cohort groups lead by certified teachers and specialists. Two RN's on site all day. Outside learning as much as possible, weather permitting, with plenty of air-conditioned inside classroom spaces.
Summer Explorations Summer Camps of The Elisabeth Morrow School, offers a unique blend of camp and school, with a wide variety of choices. Campers discover new interests, stretch their imaginations and develop important intellectual, social and physical skills, all under the guidance of certified teachers on our beautiful 14-acre campus.
To Register: https://elisabethmorrow.org/programs/summer-programming
Download their Brochure: https://elisabethmorrow.org/uploaded/EMS_Explorations_ON_SITE_Info_Packet_2020.pdf?1592242207533



______________________________________________________
WHAT THEY OFFER: (pre COVID)
Early Childhood Program for Age 3 through Grade 1
Classroom-based program (12-16 students) led by certified teachers. Specialized theme weeks and lots of opportunities for water play, playground time and nature study on our beautiful 14-acre campus. Half and full-day options available.

Day Camp Program with workshop offerings for Grades 2-6
Campers entering Grades 2-6, choose 2 morning workshops (robotics, arts, jewelry making, woodworking, cooking, outdoor adventures, team sports and so much more!) and make daily afternoon activity choices. 130+ enriching workshops offered this summer. Half and full day options availablePre Teen and Teen Programs for Grades 7-9
Pre-Teen and Teen Program for Grades 7-9
Older students develop strong leadership skills through our Counselor in Training (CIT) program, an intensive three week course. Selected participants participate in a variety of exercises and challenges and also have the opportunity to complete a First Aid/CPR course and an American Camping Association online course in youth leadership.
Eagle Sports Camp
For current students entering third through seventh grade, this week-long program is designed for students to learn and play sports
Music Camp
String Week and Band Week: String Week is open to current student violinists, cellists, and bassists entering first through eighth grades and Jazz Week is open to wind, percussion, brass, bass, guitar and keyboard players entering fifth through eighth grade who want to build skills, improve techniques and practice music.

Call for a tour!
What parents are saying about Summer Explorations!
"My child had an incredible six weeks of camp. The staff is friendly and welcoming, and passionate about what they do. They provide a vast array of programs for older students, and many crafts and play-based activities for younger ones."