Independent Lake Sleepaway Camp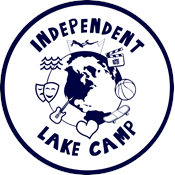 Independent Lake Sleep-Away Camp
Independent Lake Camp is a premier sleep-away summer camp dedicated to celebrating diversity, committed to fostering creativity, providing the best facilities, and a powerful, individualized program. ILC has been offering respect, creativity and understanding to campers aged 6-17 in a challenging and nurturing environment for over 30 years. The friendships and connections that are developed at ILC are one of the main reasons which makes the ILC experience so special.

ILC is a fantastic Circus, Trapeze, Sports, Fitness, Archery, Art, Theater, Dance, Magic, Music, Recording Studio, Skatepark, Digital Arts, Moviemaking, RPG, Rocketry, Climbing Wall, High Ropes, Water-ski, Wakeboard, Lake, Pool, Horseback and Nature camp all rolled into one unbelievable summer experience!

Our coed summer camp offers multiple session lengths:
Session 1: June 26- July 10th (2 weeks)
Session 2: July 10th- July 31st (3 weeks)
Session 3 July 31st - August 21st (3 weeks)
Combine sessions for a longer stay.
Camp Type: Sleepaway, Co-ed
Ages: 6 - 17 years
ACA Accredited Camp
Visit us at these camp fairs:
Bergen Town Center (1/22/22)
The Grand Summit Hotel (1/23/22)
Quaker Bridge Mall (1/29/22)
Montclair Art Museum (1/30/22)
Women's Club of Ridgewood (2/6/22)
Livingston Mall (2/12/22)
Menlo Park Mall (3/5/22)