Apple Montessori Schools Summer Camp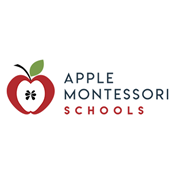 Apple Montessori campers love the exciting and enriching environment that our program offers. Each day is filled with adventures and activities such as coding, robotics, music, drama, arts, sports, daily Montessori lessons, and more! Our daily programs—like Innovators & Explorers, Tech Time, Creations & Crafts—are fun and educational, so your camper will be well prepared for the school year ahead. Daily swim lessons offered by Red Cross certified lifeguards at most locations. Daily water play with splash pads are available at some non-pool locations.
Apple Montessori is licensed by the state of New Jersey with multiple locations in North and Central New Jersey.
On site and virtual At Home options available for Summer 2021.

On site:
• Ages 2 -12
• Flexible schedule – Choose full or half-days for multiple weeks or all summer (full day hours are from 7:00 a.m. - 6:30 p.m., with 7:00 p.m. in Hoboken)

At Home:
• Ages 3 - 6
• All supplies necessary for daily activities are included in an organized, easy-to-follow package that can be picked up at the school weekly
• Live Zoom classes – up to five times per day, including educational and fun camp classes like Innovators & Explorers (STEAM)