Apple Montessori Schools and Camps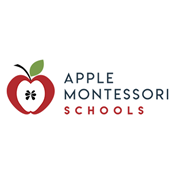 Apple Montessori Summer Day Camps
Apple Montessori's Summer Camp has been a place for our campers to foster creativity, independence, responsibility, teamwork, and long-lasting memories and friendships. Campers experience the best summer ever as our nurturing camp staff provides educational and exciting activities daily. We fill each day with activities such as coding, robotics, music, drama, art, sports, daily Montessori lessons, and more! At some locations, daily swim lessons are offered by Red Cross-certified lifeguards.
Our summer curriculum balances academics with traditional summer activities to ensure that your child keeps advancing academically, gaining new skills, and avoiding a summer learning loss. Here's a snapshot of the exciting lineup of activities we've planned for our campers this summer:
• Innovators and Explorers—Kids learn about robotics, engage in hands-on lab experiments, and participate in other STEAM (science, technology, engineering, arts, and math) activities to learn about the world.
• Tech Time—Children enjoy coding, game making, and exploring other computer-based activities.
• Montessori Connections—Our students work with Montessori materials every day to keep their young brains growing and healthy.
• Crafts and Creations—Children can discover their inner artist by creating take-home artworks.
• Celebrity Kids—Showtime! We explore many aspects of performing arts: music theory, playing music, singing, dancing, and acting.
• Young Chefs—Students learn the meaning of "farm to table" by growing and cooking personal creations.
• All-star Action—Daily games and activities promote fitness and movement while teaching the meaning of sportsmanship.
• Field trips and in-house events—We host field trips (for those who are ages 4+ at the start of camp) or an in-house event (for all ages) every week.

Most locations offer daily swim lessons with Red Cross certified instructors, and for other locations, campers can still enjoy water-play activities with Splash Pads or sprinklers. For our Hoboken locations, we offer off-site swim lessons taught by Certified Lifeguards!
Apple Montessori is licensed by the state of New Jersey with multiple locations in Northern and Central New Jersey.
Click here to schedule a tour
Click here to download the Summer Camp Brochure
Camper Ages: 2-12
Camp Type: Traditional Day Camp, Preschool Camp, Academics, Art, Design, and Making, Performing Arts, Dance and Music, Sports