Will there be summer camps in 2020? We hope to see summer camps operate as they have in the past, however, just in case, you might want to plan for one or a few to be experienced virtually. If our kiddos do not have the option to physically go to camp this summer, or you are not yet comfortable sending them, you might want to consider the following already planned virtual camps.
Here are some Virtual Summer Camp Ideas...Registering Now
Hopefully this will help you get started. Some are even free. Keep up the research and use this time to learn and explore what can be possible this summer. We're optimistic that there will always be summer camp for kids in some way, shape or form. This list will be updated regularly as we find new ideas.
These camps have spots for August 2020. Link to Virtual and In-Person Summer Camps for Kids (updated August 1, 2020)
See featured camps in the latest Summer 2020 Digital Guide! (flip through for ideas)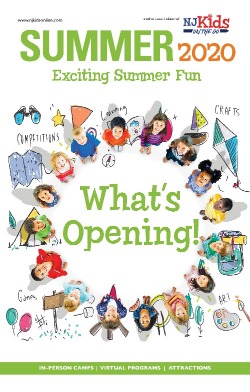 ADVENTURE LINKS
Adventure Links plans to "turn quarantine time into quality time". They plan to honor social distancing by offering a 5-day digital camp aimed at 8 to 16-year-olds. Here, campers will be placed in a "virtual team". Campers will communicate with their teammates and teachers through Google Hangouts and Zoom. Each morning, activities will be sent out via email. The sessions will begin at 9am and teams will collaborate virtually to accomplish their activities. Afternoons will consist of each team meeting with their teachers to discuss what they did and get help if needed. Each day will conclude with a group family activity. Please see their website for details on their different session offerings (Explorer, Adventurer, Earth Week & Suburban Survival).
BASS ARTS STUDIO VIRTUAL SUMMER ART CAMP Virtual Summer Art Camp for Kids 9-17 starts July 6 and runs through August 21. Montclair NJ based art studio is offering high quality virtual art programs in painting, drawing, collage, sculpture, printmaking and college portfolio prep for children and teens. Children develop confidence through skill building and creative thinking.
BLUE SKY KIDS
This summer, bring camp to you! Virtual camp is an hour-long private camp Zoom every day, Monday - Friday, for 2 weeks (10 sessions). Choose morning, afternoon, or both. All sessions are individualized and move at the pace of your child, in the direction of his/her interests. Sessions offered: coding, cooking, yoga, arts & crafts, magic & juggling, game/app development, comedy/improv, chess, medicine/anatomy, calligraphy, songwriting, and more! We match up experts in the field with your child to work one-on-one, as we've always done. It's like "choice" time at camp all day long! Want to be with friends? We have limited options for small-group sessions as well.
BRAIN CHASE
Fun, home summer learning program for all school kids K-12. Their program offers "world-class challenges in subjects ranging from art to zoology". Partnering with other great companies like Khan Academy, Code Combat, Rosetta Stone, and Typing Club, this fun learning is available to all kids through massive, global escape rooms, treasure hunts, puzzles and whodunnits. These global competitions and real-life adventures offer children clue-filled interactive rooms and animated webisodes, with leaderboards, completion certificates, and possible buried treasure.
BRONX ZOO WILDLIFE CAMP ONLINE. This virtual camp provides your camper with an exclusive behind-the-scenes look at the Bronx Zoo, Central Park Zoo, Queens Zoo, Prospect Park Zoo, and New York Aquarium. They will meet animal keepers, animals, and scientists, and participate in science and conservation action! Kids from PreK-8th grade will participate in a combination of synchronous activities at scheduled times, as well as self-directed activities that campers can do at their own pace. They will collaborate with new friends and embark on life changing experiences.
BUEHLER SPACE CAMP Buehler Challenger & Science Center Space Camp is currently taking reservations remotely for their Summer Camp 2020! Find out more about their award winning Space Camp, and go to their Facebook page for dates, content & pricing. To register, please email psilverman@bcsc.org with your full name, full address, cell phone number, your child's name and what grade they will be in next September.
CAMP WONDEROPOLIS offers FREE online learning programs filled with fun and games. Enhance your child's learning this summer through interactive STEM, literacy, math, science, health & fitness programs and more. Fun topics include "why are bowling shoes slippery?", "what is the Peace Corps?", "how do species become endangered?" and how roller coasters work, to name a few. Sign up anytime. Camp Kits are also available for sale.
CEDAR HILL PREP SCHOOL VIRTUAL GIFTED & TALENTED SUMMER PROGRAM Cedar Hill Prep School is launching their Virtual Summer Gifted and Talented program which runs from July to August. Program is designed to help students build their critical thinking skills, communication skills, and expand their creative expression. CHP is offering a wide array of classes including Podcasting, African American Leaders, Playwriting and STEM. Register now. 848-228-6483
CIRCUS PLACE'S virtual summer camps are incredibly creative with multi-talented counselors ready to coach your child in all of the Circus Arts they love! Get ready for Crazy Circus Games, Hooping, Handstands, Contortion, Juggling, Plate Spinning, Clowning, Theatre, Arts & Crafts, and of course, Act Creation for our fun filled, themed, and student led Virtual Big Top Show! All programming is completely interactive between not just camper and coach, but camper and camper as well via ZOOM. By keeping camp small, we ensure each camper will get individualized attention and instruction, with the feel of a group class. With each paid enrollment, campers will receive 3 juggling balls, 3 juggling scarves, and 1 spinning plate via mail or pick up. Hula hoops can be customized for an additional fee or campers can use one from any store. Other necessary items will be emailed 2 weeks prior to camp, but will be mostly household items. 908.829.3784
COLORADO ACADEMY
This school's summer camps are always some of the most popular and desirable camps in Colorado. The selection is always vast in interest, levels, and topics while being taught by phenomenal teachers. Currently their spring virtual camps are listed on their website, however, soon they will also publish their summer virtual options.
CONNECTED CAMPS
Online classes and camps to "ignite your child's digital creativity". Geared especially for kids aged 8-13, these online camps run 5 days/week for 90 minutes each. Camps run from June 1 to August 14th and include fun topics like: Animation in Minecraft, Astronomy in Minecraft, Architect Business Camp in Minecraft, Coding in Roblox, Engineering and Game Design in Roblox, Online Fortnite Camp, Online Overwatch Camp, and Online League of Legends Camp to name only a few. Let the kids learn while having fun at this camp – make sure to check all their offerings on their website.
CENTER FOR CONTEMPORARY ART VIRTUAL SUMMER ART CAMP - ages 5 - 15
The Center for Contemporary Art is offering weekly Virtual Summer Art Camps, from June 22 – August 28, for children ages 5-15 in half-day sessions. Art Camps take place online via Zoom. Summer Art Camps allow children to develop important artistic techniques and learn about the principles of visual art, historical periods and well-known artists. All camps are led by professional, experienced, and creative teaching artists; provide a curriculum tailored to three individual age groups; and allow students to enjoy small class sizes with projects and themes which vary weekly. All art supplies are included in the price of tuition and will be provided weekly via curbside pickup. In morning camps, young artists ages 5-8 and 9-11 will spend half of the morning engaged in fun and creative two-dimensional projects with painting, drawing, and mixed media, and the other half exploring three-dimensional projects including sculpture, mold-making, carving as well as other special subjects. Teens will explore a single medium in depth. Afternoon camps provide artists ages 9-11 and teens the opportunity to explore a single medium in depth that varies by week including Graffiti, Cartooning, iPad Drawing, 3D Design & Printing, Chinese Brush Painting and much more. Afternoon Art Camps will not be offered for children ages 5-8 years old. Learn more.
DE 360 SUMMER CONNECTIONS goes VIRTUAL! Learn boldly with Virtual Summer Connections 2020 with D-E 360! Offering a full range of online courses for students in PreK through Gr 12. Coding, performing/ visual arts, entrepreneurship, Driver's Ed., academic credit-earning courses & more! 6 weeks of programs, Jul 6 - Aug 14. Sign Up for One, Two, Five Weeks or ALL Six Weeks! Not sure of your schedule? Subscriptions are available for "Any-Time Classes" up to Grade 5. Dwight Englewood School is a private school located in Englewood, NJ.
DUKE YOUTH PROGRAMS' SUMMER ONLINE PROGRAM offers two sessions of classes for middle and high school students. Their programs promote innovation, engagement, and a love for learning. The classes are designed to provide each participant with a high-quality academic experience and opportunities to connect with peers with similar interests and curiosities. Join them this summer and be transformed! Contact tpatters@duke.edu, 919-684-6259, or visit their website for more information.
FIT FINANCIAL ACADEMY - ages 8-18
Financial education for your children to ensure kids know how to make change, manage and multiply their money. Classes include investing, real estate, career choices and entrepreneurship to name a few. These classes are offered live online and begin as early as May. Classes are best for ages 8 to 18.
FUSION ACADEMY
Summer live, one-on-one, tutoring, test prep, and mentoring packages for your middle and high schooler. Should your child need a little extra help this summer to catch up or get ahead in their studies, Fusion Academy is ready to assist. Check out their options and pricing on their website and start anytime.
GAME CAMP NATION
Attend virtual camp from anywhere in the world with& Game Camp Nation. Sign in daily for 3 hours of learning and social activities. Stick around after hours for extra fun and games with our online community. Learn art, game design or programming at your own pace from a live instructor. Start any week and level up each additional week. Play an FPS, RTS or MOBA on the PC. Learn new strategies and tactics. Even host a live stream of your game.
HARLEM SUMMER ART VIRTUAL EXPERIENCE
Harlem School of the Arts is offering a four-week virtual camp that transports young artists to the Harlem Renaissance! In celebration of the era's 100th anniversary, children (ages 5-16) are invited to sing, dance, act and design while immersing themselves in the creative history of the most influential movement in African American history! From Katherine Dunham to Langston Hughes, to Ella Fitzgerald to Jacob Lawrence, children will explore the culture and stories of the 20th centuries leading dancers, singers, actors and visual artists.
ID TECH ages 7 - 19
Virtual, structured and weeklong summer camps to sharpen your child's tech skills (best for ages 8-19). Some favorite summer topics include: Python, JavaScript, Roblox, AutoDesk, Adobe, and Minecraft. Reserve your spot today.
INSPIRIT AI - high school
This 10 session (25 hour) program is designed for high schoolers with technology interests. Taught by Stanford University graduates, students here will learn to build socially impactful projects while learning the basics in artificial intelligence in a small virtual classroom setting.
INTERNATIONAL CHESS ACADEMY offers chess and Advanced Math. Now virtual! International Chess Academy (ICA), located in both Glen Rock and Teaneck offers their highly-rated Chess and Advanced Math Programs and Summer Camp! Without missing a beat, the staff is up and running, and there are lots of classes and slots available for students of all ages and all skill levels. If you are not signed-up for an online course, try it. 11 week sessions available and led by our highly-trained coaches. Classes are lively and engaging with lots of interaction, games, and of course competition. Chess students learn via ZOOM while math students communicate with instructors through an online platform called Newrow. 201-797-0330
INTERLOCHEN CENTER FOR THE ARTS grades 2 - 12
This well-known, west coast, art school with professional instruction is now offering online summer camps for grades 2 to 12. Let your child learn about the performing arts from world class instructors while meeting peers from all around the world. Instruction will include days filled with music and instrumentation, theatre, dance, visual arts, filmmaking and so much more.
IVY VIRTUAL CAMP - STE(A)M for ages 5-15 All virtual classes are led by a live instructor, who will teach and guide campers in discussions, interactions and project-based challenges. Over 50+ classes for kids ages 5-15 in many subjects: Computer Programming, Digital Design, Video Game Creation, Minecraft, Science, Engineering, Math, Business, Arts, Humanities and more. Classes are designed to nurture hands-on learning, problem-solving, creativity, communication and positive self-esteem through achievement of skills. Small Class Experience – at most 6 campers! Learn more.
KEAN UNIVERSITY PREMIERE STAGES THEATRE ARTS CAMP Prepare for a summer of digital creativity! Camp Premiere Online hosts two-week theatre arts camp for students entering Grades 6 - 12. This summer, camp sessions have been specifically redesigned for an interactive video platform, allowing campers to take the stage to their screens. Learn more.
KIDIZENS ages 6-11
Online camps best for ages 6-11, on Zoom, where kids learn what it takes to create and run their own city. Kids will learn through virtual play about real-life problems, situations, and concepts.
LUMOS LEARNING offers fun summer learning workbooks with daily and weekly bridge activities, reading passages, vocabulary tasks, math items and writing prompts. Each free worksheet includes 4 daily math questions, 4 daily ELA questions, fun activities such as riddles, crossword puzzles, essential sign language guide, and more. If you are looking for more engaging resources for your child, there's also the complete summer learning headstart workbook for purchase from Amazon.
MASON GROSS SCHOOL OF ARTS VIRTUAL SUMMER PROGRAMS
Rutgers Community Arts is excited to offer a wide range of remote learning programs this July and August for participants in Art & Design, Dance, Music, and Theater. Now you can explore, create, and perform under the guidance of Rutgers faculty – all from the comfort of your own home! 848-932-1500
MLC STEM LEARNING CENTER is offering an amazing and memorable virtual experience for the summer from 6/29 to 8/28. starting at ages 3 thru grades 2 and above will be offering a virtual summer camp with structured, interactive classes. STEM+ classes Code Academy, 3D Design/3D Printing, Digital Arts, Maker Lab, Chess, Waterbotics, STEAM Engineering), Little Engineers (3-5 year olds) and Music STEM classes. Each session will have a limited number of students grouped by age and level. They also have in-person camp.
MONTCLAIR FILM VIRTUAL SUMMER ACADEMY
In-depth, intimate workshops are available in Guerrilla Filmmaking, Screenwriting, On Camera Auditioning, Editing, Visual FX, and Sketch Comedy Writing for ages 12+. And because camp is not just for kids, they are offering an adult mini camp as well. (Scholarships available for qualified students). 973-783-6433
NEWARK MUSEUM VIRTUAL CAMP Join them and build community through project-based classes where campers can develop their skills and make life-long friends! Virtual Camp at the Newark Museum of Art will consist of two sessions and teen classes to accommodate all our campers. Mornings reserved for children ages 5-7 & 8-12 and afternoons for teens ages 13+. Each week we will explore a different theme! Ages 5 -13+. Participate in two (2) 45-minute LIVE Zoom classes per day and Google Classroom check-ins throughout the week. Camp weeks begin Jul 6 thru Aug 14. Learn more.
PARTY MAGIC ACADEMY VIRTUAL MAGIC CAMP
Let your children discover magic this summer with our Virtual Magic Camp. Weekly camp consists of 5-1 Hr classes, starts July 13 - Aug 7, pick your week. Live, Fun-Filled, Action-Packed classes full of magic, optical illusions, jokes, games, prizes and more!; your magicians-in-training will learn the four top-secret effects behind all magic tricks. Discover the real secrets to becoming a true magician, as each lesson reveals an important life skill to help build confidence and communication skills. Plus receive a Top-Secret Video Vault where your child can watch the replays of all the illusions taught during camp, plus learn some bonus tricks too! For ages 7-13 taught online using the Zoom app. 800-539-8743 | 973-809-2933.

READING ROCKETS PreK - 6th
FREE, online and self-paced programs and activities to do at home to enhance reading, writing and science skills. Offering a huge list of topics, games, and activities, choose your favorites and start having fun while learning. Best for elementary school kids grades PreK-6th.
ROBOT REVOLUTION offers new Online Robotics Camp... Online classes with our take home equipment provides a better way to learn online. An exciting introduction to robotics, this class gives kids a chance to design, build, and program a VEX IQ robot and then solve a series of fun challenges while developing their skills. The class culminates with the Grand Challenge, in which kids try to accumulate all the points they can as they extend their new found skills. Students are provided with one of our kits to use during online class time. They are offering 4 week sessions that will meet 2x per week for 1.5 hours and maximum of 4 students. Some students sometimes travel 50 miles to join our program. Your student can join us this year online instead. Learn more.
RUTGERS MASON GROSS SCHOOL OF THE ARTS VIRTUAL SUMMER PROGRAMS Rutgers Community Arts is excited to offer a wide range of remote learning programs this July and August for participants in Art & Design, Dance, Music, and Theater. Now you can explore, create, and perform under the guidance of Rutgers faculty – all from the comfort of your own home! Registration is now open! 848-932-1500 Learn more.
SUMMER CONNECTIONS D-E 360 is opening it's virtual camp. One-on-one music lessons, visual arts, dance, scholars courses, enrichment and more! Registering for summer now with six weeks of programs starting July 6 - August 14. Attend their virtual open house June 6 @ 1pm on Facebook Live/Zoom. Register here. Dwight Englewood is an independent day school for preschool (age 3) to Grades 12.
STEM4KIDS ages 9-17
Online morning and afternoon camps for Java and Python Programing (ages 9-17) as well as Coding and Game Design on Scratch (ages 6-10). Small, personalized, live classes are offered. Please check their website for specific dates, times, sample day schedule, and registration.
ST. HUBERT'S popular summer programs are going virtual! They are accepting registrations for their free virtual sessions. Animal welfare experts will virtually visit with participants to share their expertise on a wide array of animal sheltering and welfare topics. Each day will consist of live ZOOM meetups, all designed to build positive and enriching behaviors with other animals. Other interactive web resources such as Google Classroom (Slides), Kahoot!, and Flipgrid may be used. Each day will also include opportunities for offline, independent activities such as making crafts, scavenger hunts, viewing videos, and participant video sharing.
TEAM MAKERS is offering day camps in the following disciplines: Engineering, Science, Pokemon games, all for different age groups. At a very inexpensive cost, 1 hour a day camps for $50 a week. Contact Keith for the flyer with all the sign up links. keith@teammakersnj.com www.teammakersnj.com or via facebook. 201-500-8076.
VARSITY TUTORS
FREE, virtual summer camps with expert-led classes from creative writing to making LEGO movies to help your kids "stay ahead" this summer. Each camp is made up of 5 live sessions (usually about an hour) and offered Monday through Friday. Topics and themes differ depending on ages and grades so please check their listings. Some of these themes include: Recycled Art, Fractured Fairytales, Detective: Crack the Case, Travel the World with Google Earth, and Theatre for Young Performers to name only a few.
VISUAL ARTS CENTER SUMMER ART CAMP is offering online or in-person art camp. This summer is going to be unlike any we've experienced before, but at the Art Center they're determined to make it as fun and creative as possible. Experience camp either online or in-person. Camp starts 6/22 online and 7/6 in-person at Summit, NJ. Learn more.
WEALTHY HABITS
Online financial literacy camps – 5 days/week from 10am to 4pm EST – where kids receive 5 days of live streaming and engaged learning, breakout sessions for peer collaborations and physical activities like treasure hunts and talent shows. Amongst the 5 days, students will learn about earning money, taxes, banking, budgeting, credit, investing, credit scores, identity theft, career, net worth and so much more. This is vital information most of us wished we learned in school.
WESTFIELD SCHOOL OF DANCE VIRTUAL PRESCHOOL SUMMER DANCE From our home to yours, WSOD presents Preschool Summer Dance for ages 3 - Kindergarten. The adventure lasts from July 6th to July 30th. PRINCESS ADVENTURE (Tuesdays and Thursdays 9:30 - 11:30) and CREATIVE MOVERS (Mondays and Wednesdays 9:30 - 11:30). 908-789-3011
YOUTH PROGRAMS AT WILLIAM PATTERSON. Their NEW ONLINE Summer Youth Programs stimulate students' imagination and reinforce essential academic skills in the comfort of their homes. All available courses are for Grades 4-12 are listed under Virtual Youth Programs by Week. Please use the promo code ONLINEATWP for an extra 15% off. Due to COVID-19 and exercising social distance, all Youth Programs offerings will be delivered using distance learning. Email Iris DiMaio at youthprograms@wpunj.edu or call 973.390.0340. Visit their website for a full course listing.
---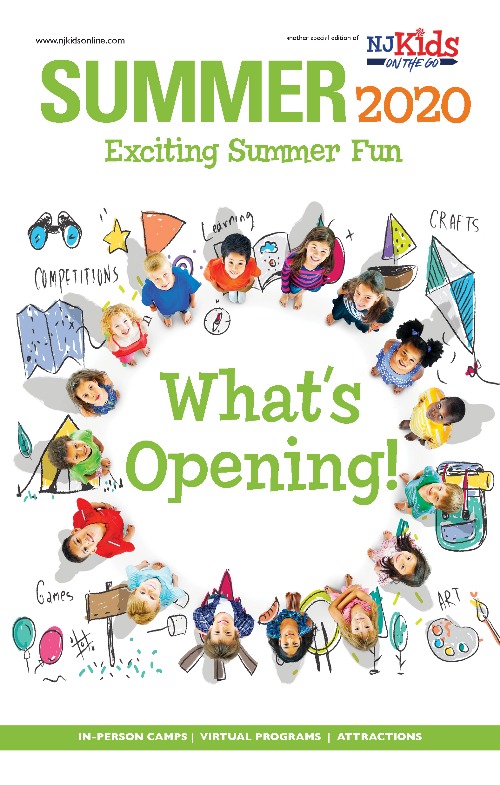 FLIP through the Summer 2020 Ebook for the latest camps that just opened...watch videos too!
Go to our Summer 2020 for the latest reopening listings. Contact camps directly for their opening and updates.
Please check back for more additions or changes to this article and, as always, please always contact the school or camp for the most updated information.