In person summer music experience with School of Rock Summer Camps - Starts July 6, 2020
Drum roll please!!! Is your child interested in strumming guitar chords like Eddie Van Halen, playing drums like Shelia E. or singing songs like Alanis Morissette? If so, School of Rock Summer Music Camp is the place to be this summer to learn how to Rock 'n Roll. Preschoolers, kids, and teens can come in person for a great summer camp experience and have fun playing on instruments such as guitar, bass, drums, keyboard, and vocals.
We offer various music and voice camp options for children ages 3 to 18, all skill levels ranging from rookie rock to modern rock. Register for weekly camp sessions, our program runs Monday through Friday from July 6, 2020 through September 3, 2020.
All students are welcome back for lessons, rehearsals, group classes and summer camps as of July 6th! After a deep cleaning, the staff will prepare the facility with social distance procedures to ensure a safe transition for both staff and students.

Be prepare to Rock safely. We've installed partitions in lesson rooms to separate instructors and students, reduced capacity rehearsals, requiring masks, drop off & pick up only, requiring vocalists to use their own microphones daily, and cleaning & disinfecting regularly.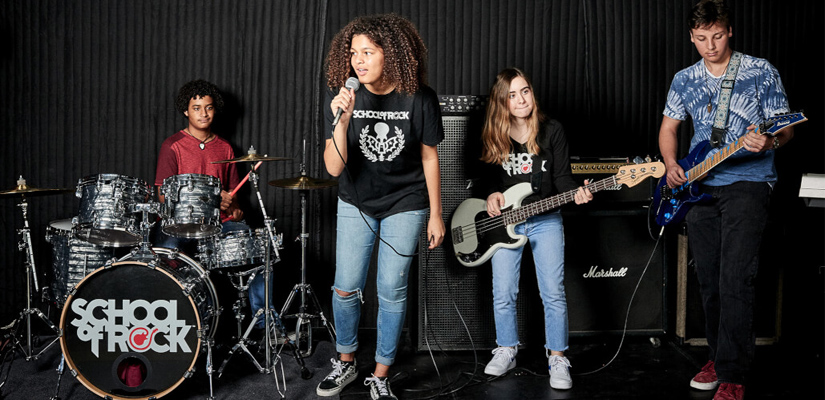 Camp Options:
Little Wing Camp is for children ages 3-5, they learn rhythm through music activities and games. Rock Rookies Camp for kids ages 6-7 explore rock band instruments and learn iconic rock songs. Rock 101 Camp for campers ages 8-12 is for aspiring rockers, see what's it like to be in a band.
Classic Rock Rewind & Remote Camp via ZOOM is offered for children ages 11-18. Jam to The Ramones or The Clash in the Pop Punk Rock Camp (ages 11-18). 80s Rock Camp rules for campers ages 11-18 -- think Bon Jovi and Queen. Rehearse and play modern rock songs at Modern Rock Camp.
Why not try the Best Of The 90's Camp (ages 11-18) and rock to Pearl Jam and Green Day. Rehearse as a band and perform at Legends Of Rock Camp (ages 11-18). For budding song writers and lyricists, Songwriting & Performance Camp (ages 13-18) lets you collaborate with your fellow camp artists to form original songs.
School of Rock has it all - for kids ages 3-18 & Adults too! Camps, one-on-one lessons & group band practices, and workshops.
Sign up today for in person and remote options. Please note that camp sessions vary by New Jersey location. To register or for questions, contact our locations below:
School of Rock Clark Summer Music Camp
1173 Raritan Rd, Clark NJ
clark@schoolofrock.com
908.577.4473
School of Rock Chatham Summer Music Camp
60 Main Street, Chatham NJ
chatham@schoolofrock.com
973.635.2100
School of Rock Cresskill Summer Music Camp
50 Piermont Rd, Cresskill NJ
cresskill@schoolofrock.com
201.568.7625
School of Rock Montclair Summer Music Camp
125 Valley Road, Montclair, NJ
973.337.5296
montclair@schoolofrock.com
School of Rock East Brunswick Summer Music Camp
3 Lexington Ave, East Brunswick, NJ
732.570.2500
eastbrunswick@schoolofrock.com