An accredited school serving children ages 1-1/2 to 6 years
Sowing The Seeds Of Community Giving
When we step back and think of community, our first thought is of a geographic location, or a myriad of homes, or our very own street. As we delve a bit more, we realize that community is so much more – it is a feeling of fellowship with others, sharing some common threads and goals, and giving of ourselves to maintain the bonds.
The Westmont Montessori School, an accredited school for children ages 1 ½ - 6 years, has been part of the greater Mendham/Chester community for 52+ years. It was through generous gifts by local families, a set of dedicated parents, a Board of Trustees, and a strong vision, that Westmont came to open its doors for families who desired a quality preschool education.
Westmont has never forgotten and is grateful for the ongoing support of the community it serves and is proud to be in a position to give back. Every year, whether it is through Westmont's need-based scholarship in memory of Jason K. Jacobs, an active Alumni Committee supporting our young adults in scholarship and service, partnering with Preschool Advantage of Morristown, which funds quality preschools for families in need, provisions to the Chester Food Pantry, or our ongoing visits by the Kindergarteners to the Seniors of Holly Manor, it reaffirms, "It is definitely nice to receive but infinitely more rewarding to give!"
Our collaboration continues through the support and participation of local sports teams, the annual Mendham Harvest Hustle, support of local business and tourism associations, and the Westmont Parent Education Speaker Series.
The seeds born from the generosity of gifts from more than 50 years ago continue to bloom. Today, we impart this community spirit of kindness, caring, and collaboration through our Montessori philosophy and our day-today role modeling in the classroom.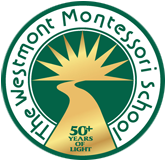 We welcome you to visit The Westmont Montessori
577 Route 24, Mendham, NJ 07945
908-879-6355 / admissions@westmontmontessori.org
www.westmontmontessori.org