The Center School...a private school for students with learning disabilities, K-12
Founded in 1971 by a group of concerned parents and educators, The Center School is a private, non-profit, state-accredited school for students with learning disabilities, K-12 and beyond. Now located in Somerset, NJ, the school welcomes and supports students struggling with the following:
Adjustment disorder
Anxiety disorder
Attention deficit/hyperactivity disorder (ADD/ADHD)
Autism spectrum disorders
Depression anxiety disorders
Obsessive compulsive disorder (OCD)
Oppositional defiant disorder (ODD)
Learning/language disabilities
Mood disorders/bipolar
School phobia
Sensory integration disorders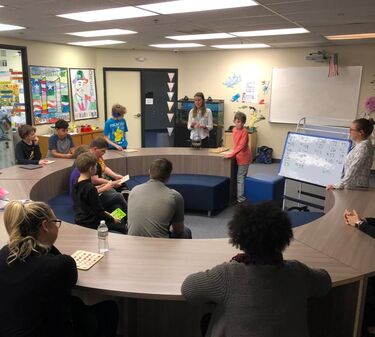 The Center School offers programs from elementary through high school as well as an extended educational offering in July, a summer camp, and a transitional assistance program for anyone between the ages of 18 and 21. Students receive IEPs (individual education plans) and are supported according to their personalized needs with counseling, speech/language therapy, and occupational therapy, from the school's dedicated staff.
Scenes from Elementary School:
Scenes from Middle School:

Scenes from High School

Admission is through your child's school district and case manager.
If you feel your student could benefit from these programs and you would like to know more about the school or take a tour. Please contact Kerri Spotts to begin the process.
Contact Information:
Email: kspotts@center.school
Ph# 908.253.3870 x303

2 Riverview Drive, Somerset, New Jersey 08873
www.centerschool.com