BE PART OF THE SCENE! Sign up today for NJPAC's Summer Programs.
NJPAC is offering Summer programs in Dance, Devised Theater, Film, Hip Hop, Jazz, Musical Theater and R&B from June -August for students aged 10 - 25.
Young Artist Summer Intensive, Ages: 10-18
Dance • Devised Theater • Musical Theater NJPAC faculty provides a positive and nurturing learning environment for students to develop their inner artist.
Hip Hop Intensive, Ages: 10-16
Students explore five elements of hip hop: (1) DJ; (2) Graffiti; (3) MC; (4) Break Dancing and (5)Knowledge of self.
All Female Jazz Residency, Ages: 14-25
Students will refine their instrumental or vocal skills and work intensely with respected jazz musicians at this overnight residency at Rutgers University-Newark. Jazz and R&B Intensive (NEW!), Ages: 12-18. Explore the creativity and vibrancy of Latin, Classic Jazz and R&B. NJPAC's Jazz Faculty will guide students through a cultural journey and take your vocal, instrumental and songwriting skills to the next level.
NJPAC Summer Filmmakers (NEW!), Ages: 13-18
Students learn collaborative filmmaking and media arts, media literacy, camera, editing and storytelling through digital video production.
Financial aid is available.
Early Bird Discount - Sign up today and save $50!**
Must register and pay in full by March 30, 2017.
Sibling & Multiple Program Discount.
10% discount for siblings and 10% for multiple programs.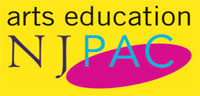 To register visit njpac.org/getacceptd njpac.org/summer • artseducation@njpac.org