Passionately Building Character One Stroke At A Time
You feel it the moment you walk in. Something different. It's more than vibrant colors chosen to inspire kids. More than a curriculum crafted to not only teach kids to swim but also to build their character. More than a shiver-free pool heated to 90 degrees. There's something more. Something that propels Goldfish Swim School beyond typical. It's passion. Not just a passion for kids or for swimming…it's a special passion for changing – even saving – lives by teaching kids to swim.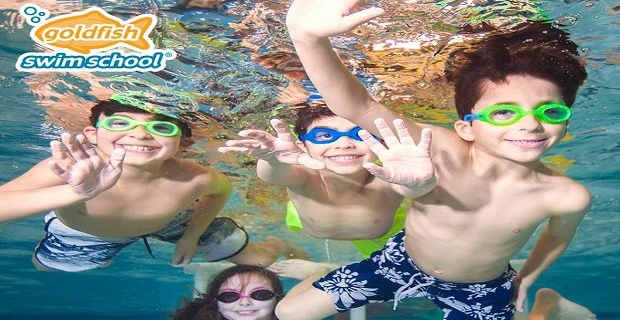 A passion born in the heart of a mom – driven by her love for children, swimming and a desire to deliver an unmatched "Golden Experience".
Year-Round Swim Lessons for Children
Our revolutionary Perpetual Lessons model includes:
One life-guard certified instructor for every four children
Year-round swim lessons for children 4 months to 12 years and for all abilities
Curriculum focused on teaching swim and safety skills while building character
Flexible scheduling to accommodate even the busiest schedule
A state of the art water purification system that guarantees a clean and safe environment for swimmers
Classes range from introductory parent-tot programs to advanced pro-level lessons. We also offer a recreational swim team for those swimmers that want to swim for an hour and prepare for the next stages of competitive swimming. Lastly, we offer weekend birthday parties and open swim times.
Goldfish Swim School is the perfect solution for parents looking for quality swim lessons in the Bergen County area. Located in Wyckoff in Boulder Run Shopping Center there is ample parking and easy access from Route 208. Please visit our Facebook page at www.facebook.com/goldfishwyckoff off the latest updates or our website www.goldfishswimschool.
Goldfish Swim School- Wyckoff
327 Franklin Avenue, Suite 20 Wyckoff, New Jersey 07481
201-254-FISH • www.goldfishswimschoo