Native American Indian Exhibits & Displays Around NJ
This 2018 Thanksgiving, we celebrate Native American Indians with exhibits displayed throughout New Jersey. Did you know that early Native American Indians who lived in NJ used only stone tools and weapons or that the Lenape Indians used to live along the shores of Lake Hopatcong?
For thousands of years, Lenape civilization is commemorated on our modern map with familiar names like Kittatinny, Allamuchy, Musconetcong, Netcong, Pahaquarry, Hopatcong, and many others. Native American culture has been an integral part of both New Jersey and American history. Go explore a restored village or step inside a wigwam! Please check dates and times as they are subject to change.
Franklin Mineral Museum
32 Evans St, Franklin, NJ, 973-827-3481
American Indian Room at the Franklin Mineral Museum contains a collection of stone tools made by Lenape Indians. Also see artifacts from all over U.S. and Mexico, baskets, pottery, drills, axes, spears and more!
Huber Woods Environmental Center (Monmouth County Park System)
25 Brown's Dock Rd, Locust, NJ, 732-872-2670
At Huber Woods, try your hand in Lenape activities - basket weaving, archeology, maize game and more! Play Native American instruments. View and listen to recordings of American Indian musicians and dancers.
Montclair Art Museum
3 South Mountain Ave, Montclair, NJ, 973-746-5555
Ongoing exhibit through July 2019 at the Montclair Art Museum called "Undaunted Spirit: Art of Native North America" highlights Navajo weaving called "eyedazzler", Navajo silver working, Great Plains tribes baby carriers and beaded dresses, Northwest Indian blankets, headdresses, and masks. Also view contemporary Native American Artwork.
NJ State Museum
205 West State Street, Trenton, NJ, 609-292-6464
17th century exhibits & programs exploring the history of Indians & Europeans in colonial New Jersey at the NJ State Museum. Featuring Native American artifacts: a dugout canoe, tools, weapons, clothing, ornaments and jewelry. Visit "A Much Moved People: Preserving Traditions of the Delaware Indians" exhibition and see mats, brooms, mortars, shovels, children's moccasins, and children's baskets.
American Museum of Natural History
79th St & Central Park West, New York NY, 212-769-5100
Featuring Hall of the Eastern Woodlands, Hall of Plains Indians, and Hall of Northwest Coast Indians (undergoing restoration). Showcasing artifacts such as cooking utensils, clothing, weapons, masks, and jewelry. Check out a wigwam, teepee, great house, earth lodge, canoes, and totem poles.
Lake Hopatcong Historical Museum
Hopatcong State Park, Landing, NJ, 973-398-2616
Free Admission. The Lenape once lived along the shores of Lake Hopatcong. Learn about the history of the lake and the working of the Morris Canal.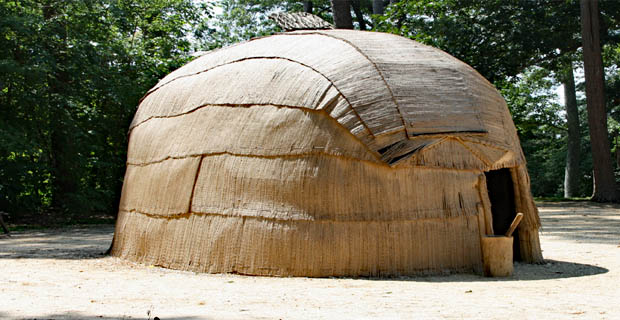 Morris Museum
6 Normandy Heights Rd, Morristown, NJ, 973-971-3700
American Indian gallery with Native Indian exhibits on pottery, basketry, bead & quill, and textiles.
The Museum of Indian Culture
2825 Fish Hatchery Rd, Allentown, PA, 610-797-2121
Volunteer run museum and resource center for kids and adults of all ages to learn about the First Peoples of the Lenape and Northeastern Woodlands tribes. Go on a guided tour and get exposed to Indian culture. Touch friendly and interactive exhibits for children.
Museum of Prehistory of Cumberland County
1461 Bridgeton Rd, Greenwich, NJ, 856-455-8141
A South Jersey private collection of Native American stone artifacts, pottery, and crafts.
National Museum of the American Indian (New York)
One Bowling Green, NYC, 212-514-3700
Free admission. Explore exhibits on the Native people of the Americas. The imagiNATIONS Activity Center is a family friendly interactive space where your child can explore Native scientific discoveries and inventions - solve puzzles, try experiments, and play computer simulations.
Trailside Nature & Science Center
452 New Providence Rd, Mountainside, NJ, 908-789-3670
Located within the Watchung Reservation, discover how Lenape Indians lived and step inside a life-size walk-in wigwam.
Waterloo Village
525 Waterloo Rd, Stanhope, NJ, 973-347-1835
Fun experience for kids! Restored village - see history from a 400-year old Lenape (Delaware) Indian village to a bustling port along the once prosperous Morris Canal.
The Woodruff Museum of Indian Artifacts
150 E. Commerce St, Bridgeton, NJ, 856-451-2620
Located in the Bridgeton Free Public Library. Houses a collection of Lenape relics and artifacts - iron stones, weapons, arrowheads, pots, and other daily life tools.