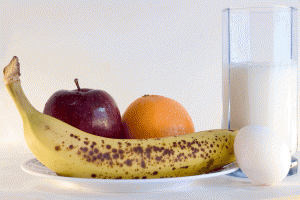 Has your healthy eating also taken a summer vacation? It's BACK TO SCHOOL time! Really, for many of us, this is like the New Year. At my house it means back to schedules and routines. Why not make this happen with your diet as well? What your child eats does make a difference in how they learn.
Also, about a quarter of 2-5 year olds and one-third of school-age children (including adolescents) are overweight or obese in the U.S. As a parent, you can influence what your kids are eating at school and at home.
Yes, breakfast is an important meal for growing children. Studies show that breakfast eaters tend to have higher school attendance, less tardiness and fewer hunger-induced stomach aches in the morning. Their overall test scores are higher, they concentrate better, solve problems more easily and have better muscle coordination. So whether they eat at home or at school, be sure your children eat a nutritious breakfast every day. Avoid high sugar cereals which will leave your child with spikes in blood sugar and hunger pains early in the day.
If your children's school provides meals, take time to go over the menu with them and discuss how to build a healthful and nutritious meal they will enjoy. Make sure the choices include whole grains, vegetables, fruits and low-fat or fat-free dairy at every meal.
If you pack your children's lunch, take your kids grocery shopping with you and allow them to pick out healthy foods that they enjoy. Your children are much more likely to eat what you pack for them if they have picked it out themselves. Try and incorporate fresh fruits and vegetables. Also, use whole grain breads and less processed foods. Have protein at every meal. Protein gives you lasting energy since it takes longer to break down as compared to carbohydrates. This is the energy that will last throughout the day. Cut back on sugar. Consider giving them a special sweet treat or letting them purchase something at the snack bar once a week.
If your children are involved in after-school activities, pack a healthy snack they can eat beforehand. Fruit or vegetable slices and whole-grain crackers with low-fat cheese are healthy options that will give them the energy they need to make it to dinner.
And, most importantly, set a good example for eating healthy foods at home.
Sources:
http://www.eatright.org/Public/content.aspx?id=6442453115
http://frac.org/initiatives/hunger-and-obesity/obesity-in-the-us/
Tiffany Glenn, M.S., R.D., L.D.
Rodan and Fields Executive Consultant
From the Doctors that created Proactiv® Solution...the best spent minute in anti-aging