Stuck in quarantine with your kids and you're losing your minds. It's only the beginning, so how does one maintain calm.
Everything is closed and everyone is home. Parents are all balancing work and kids at the same time, and for an extended, unknown time period. We're all beyond nuts. It's important to keep calm and stay calm. Anxiety? Chaos? Yelling? NO! Here are some tips...
1. MAKE EVERYTHING A GAME. How about this? This will help keep kids busy and at the same time, help with chores. Incentivize them anyway you know how? Whether it's with money (as in this case with teens), candy, extra video gaming time? Keep it light and fun. Try it.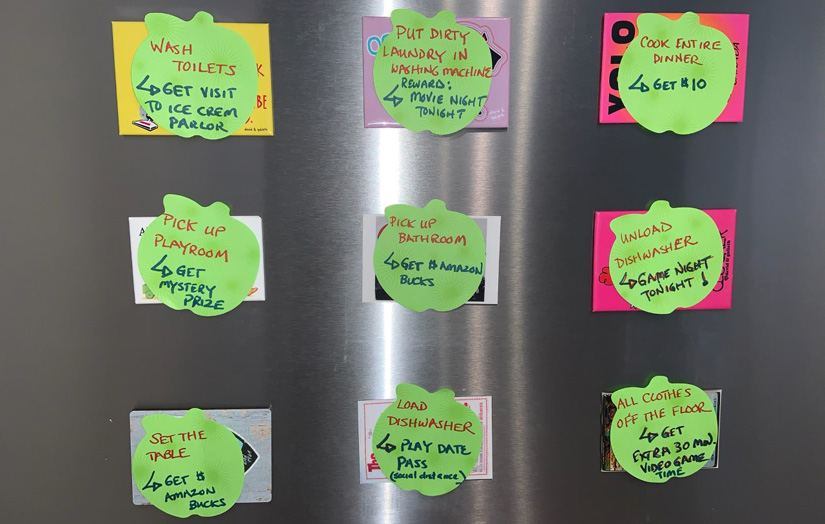 2. ESTABLISH RESPONSIBILITIES. You must act like an army sergeant. When at home, I'm sure you agree that the number one item on our list is to teach responsibility, and make the kids do…Chores! Use a reward system, make it visual, concise and easy. Make it rewarding and get everyone involved. Train them as early as possible, otherwise, you'll be stuck cleaning and picking up all the time. Make chores age appropriate!



3. MAINTAIN A POKER FACE. No screaming, because if your kid is on remote learning with school, chances are, the class and teacher may hear. Exercise slow, upbeat, tranquil or at best neutral tones.
4. FIND FRESH AIR. Stick your head outside periodically. Better yet, MAKE them GO outside.



5. GET OUT OF YOUR PAJAMAS! Comb your hair. Kids don't like untidy adults. You may feel better too.
6. DON'T LEAVE THE NEWS ON ALL THE TIME! You're just sending negative vibes to the kids.
7. CHRISTMAS IN MARCH? Some crazy channel suggested taking out the Christmas lights to keep the mood positive. Why not?

8. Endless video gaming at home? Keep a CONSISTENT ROUTINE. Write down on the walls. Use the meal gatherings to rally up the troops and set new direction.
9am: WAKE UP!
9:30: BREAKFAST TEAM WORK
10:30: YOUTUBE Exercise
12:00: LUNCH - Make lunch together
2:00: YOUTUBE Exercise
3:00: SNACK TIME - Make snacks together
4:00: YOUTUBE Exercise
6:00: DINNER TIME - Make dinner together
Get it?
9. Find and tell RIDDLES for kids at the dinner table. Jokes and laughs will always lighten the mood.
10. War zone still? Little kids against the big ones? Fighting, crying, screaming? BREATHE AND GIVE YOURSELF A TIME OUT. Maybe in the bathroom, closet, garage, or even the ROOF, Daddy! Guaranteed peace, socially distanced and fresh air!