Date nights are important for the happiness and success of any relationship, and just because the coronavirus has closed cinemas, theaters, bowling alleys, indoor dining and more, does not mean you have to forget all about it. Couples must keep the romance alive, especially during these trying times, so here are some at-home and around-home date night ideas for you. Some might require the assistance of a sitter depending on your situation, but many do not.
So much has changed in recent months, and we have had to make great sacrifices to take care of our families in our new normal, but now is the time to focus on the love-of-your-life. Some tips to start off:
Mark the date down on the calendar!

Make it consistent...weekly, bi weekly, monthly. It can be short and simple, or as elaborate as possible.

Schedule the baby sitter ahead of time, if needed.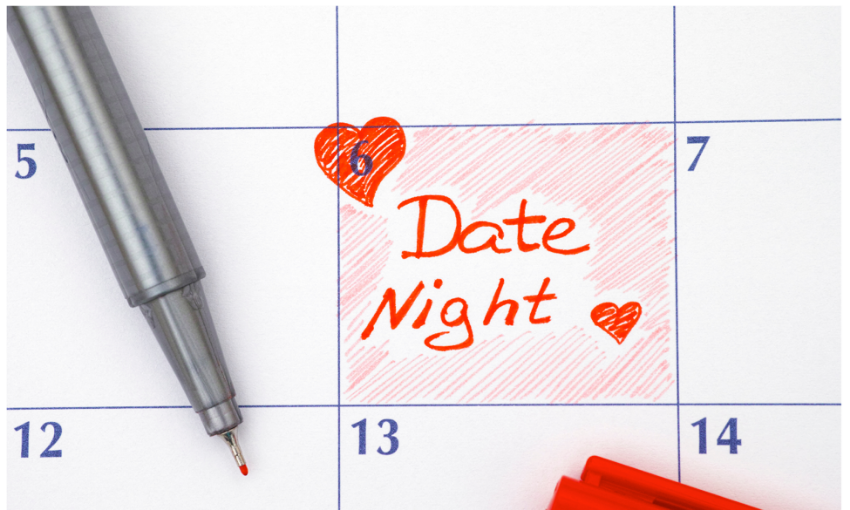 Date Night Now? Here's how! Here are our top Date Night Ideas - at home and around the home... Make some magic and enjoy!
At-Home Date Night Ideas
Movie Night Under the Stars in your back yard. Bring your blanket, pillows, drinks, dessert, and pitch a tent or bring the citronella candle to ward off mosquitoes. You can watch a movie on a nice large-screen laptop under the stars or get a projector and hang a white bed sheet for a grand movie experience. Of course, this is weather dependent!

Virtually Travel Together - Have you always talked about traveling the world? Take this time to plan now. Research amazing new countries, cities, and towns on the internet. Then,

Plan one or two dream vacations together. If you're not afraid to think ahead about a year, you may want to book tickets and take advantage of current specials. Take a risk and go on an adventure. There's no better time than the present. View our 70 family vacation ideas.Why not book it? Airlines are not charging for changes in dates. Take advantage of the discounted rates.

Cook a special dinner together. Select a favorite recipe and enjoy a nice evening cooking together then reaping the rewards of your hard work once finished. You can even challenge yourselves to a cook-off! Better yet, sign up for online cooking classes

Cocktail hour at home! Mix some specialty cocktails. Set up a tasting night too, with hors d'oeuvres. Dress up and get fancy.

Try a Paint and Sip night. Feeling artistic? Get out your canvas, paints and paintbrushes, simple paper and crayon, or purchase a Henna kit or skin paint. Designs are everywhere online, and virtual classes abound

Stir it up and make it a fondue date night. Whether it's a cheese fondue or chocolate, make it a delicious night together.

Consider battling it out on the Xbox or PS4. It's not just for kids! Games can be a fun way to spend the night together. There are all sorts of games sure to please everyone. Check out all the options, let loose and have fun!

Do a puzzle together. 1000 piece puzzles can last a while. Set it on a designated table you won't need for a few weeks and find those matching pieces until you reveal the final picture. Add wine and cheese, music, candles, and conversation.

Make a tik tok video together. These are all the rage with teens right now and are fun to do. Check out some of the dance routines on there, try to duplicate them, and should you feel brave enough, tape yourselves doing it!

Zoom in for a double date with another couple. Start a free zoom account and go on a virtual double date. Just because you are stuck at home does not mean you can't have fun with your friends. Plan a great night in with a special theme. Decorate your space, log on, add music, drinks, and dress up. You can also find some online games to play together to upload onto your zoom session or a board game with the camera's help.

Meditate or Exercise together. Whether you like yoga, Zumba, boxing or more, you can find those videos on YouTube. Pick a channel, choose a video, and have fun going through it together. Getting that heart rate up or relaxing with meditation is a great moment for couples to share together.

Start a fire outside in your fire pit and roast marshmallows. Snuggle up with a blanket and admire the stars, or just watch the fire light up the night with some marshmallows while sipping on your favorite drink. I find staring at a flame so soothing, and it's so warm. This is always a favorite thing to do.

Take online ballroom dance classes. Get those bodies up close together as you learn the dance of love. Many classes can be found online, but you can try this one to get you started

DIY project together. Is there something about your house that has always bothered you which you wanted to change or improve? Now's your chance. Challenge yourself to a home improvement project, build storage for your garage, or fix something that is broken. Complete projects together while improving your home.

Watch a virtual Broadway play! Do you miss driving into Manhattan to see live Broadway performances? No need to be sad…stream them online. Watch snippets for free on YouTube or access any show of your choosing for $8.99/mth or $99/yr

Watch a virtual concert! Billboard is streaming live and pre-recorded concerts for your enjoyment. You may not get the full crowd ambiance, but you can still set it up in your living room our backyard with drinks and snacks, snuggle up in a blanket or dance your heart out while enjoying your favorites performers and great shows together. Get Ideas

Flip through old photos and reminisce about your pre-kid life.Remember those days when we took actual photos, printed them out and created albums? It's time to dust off those photobooks and go through them to remember how it all began!

Shoulder, foot, and back ... massage. There's nothing quite as special as a touch, which is why this classic idea is always a good one. Get some nice smelling oils, candles and music and take turns massaging your partner.

Game date night. Take out your favorite board games and have at it together or play new board games online

Garden together! Pick out a tree, flowers or veggie-plants from your local gardening store or Home Depot/Lowes, pick out a good spot, and start planting. Then sit back and admire your work with some nice cool, iced lemonade or something stronger. Every time you see it in the future, you will be reminded of this great time together.

Treat yourselves for a coffee break. Create a serene, backyard sitting area with a little shade to enjoy coffee or tea outdoors, quietly together. Even if only for 10 minutes, make it an undisturbed, meaningful moment together

Lounge around in your backyard beach. Get out the beach chairs and the margaritas, some music and enjoy relaxing together. Go one step further by creating an area for some sand and a blowup, tiny pool to dip your feet in!

Sleep in and have Breakfast in Bed.Take turns letting your partner sleep in and wake them up gently with their favorite breakfast in bed!

Try new positions! Keep it fresh! (you know what we mean)

Around-the-Home Date Night Ideas which might require a sitter
If you need steps to prepare the babysitter before your first date night out...read that article here.
Drive-in movie night! Consider moving your date night out to the car for a quiet kid-free evening. Schedule it ahead of time, so that you can plan and look forward to it. Plan a "drive in movie night" at a drive-in theatre. Things to bring are pillows, blankets, favorite beverages, popcorn, candle to set the mood (if allowed, check ahead). Look at our list of local options for drive-in movies listed inside our article: Bored At Home. If you don't want or can't leave the house, you could always set it up in the driveway and project the movie on your garage door!

Date night at your favorite restaurant. Order ahead, pickup, and dine-in or dine-out at some of the now-open outdoor dining establishments (many require reservations since there are fewer seats, so please plan ahead). If you can, do this once a week, and change up the restaurant. Some restaurants may also have fun, theme night specials. Bonus, this supports your local businesses which all need our help.

Date night walk around the neighborhood. Take long walks and change up the route. You can meet your neighbors along the way and get reacquainted as a couple.

Visit a winery and go for a wine tasting. This is a great way to explore and learn, and sip! Did you know that there are over 50 wineries in our state. Great way to spend an afternoon. Crossing Vineyards and Winery, White Horse Winery, Hopewell Valley Vineyards, Tomasello Winery are among a few.

Be a tourist In your own Town! You never know new stuff what you'll find.

Go hiking, biking, and exploring. Parks are open as long as you follow social distancing rules and this can be a great option to spend time together in nature. Take a walk in the local county or state park. Find a new trail. There are so many, you'll be surprised at some great, hidden gems right in your neighborhood; or go biking around town and see who's opening their store. Scan our article: The Great Outdoor Guide to Parks, Nature, Trails and Gardens.

Go for a spin in your car. We are all antsy and rearing to get out again, however, we must still remain safe, so maybe a drive to the beach, or a park, or around your neighborhood or town might put be just what we need. Crank up the music, open the windows, the sunroof or convertible top. Now with so few cars on the road, and much less traffic, it's definitely more pleasant to take a drive.

Pick up a new sport together. Golf? Driving range is easy and quick and fun. Paddle? For the winter, go snowshoeing or snowmobiling? Get your blood pumping. Tennis? Many public parks have tennis courts.

More to come!