Performing Arts Programs for Students
Penelope Niebla, an eighth grader in Jersey City, always enjoyed listening to jazz. As she got older, she started to differentiate between the instruments that comprise the genre's melodies and was attracted to the sound of the woodwinds. "Learning to play saxophone has always been a dream of mine," she said. "I wanted to be a part of the amazing music that comes from it."
NJPAC's affordable and accessible Band Together program helped make Penelope's dream a reality. Band Together is one of several performing arts programs offered on Saturdays throughout the school year in addition to acting, musical theater, hip hop arts & culture and TD Jazz for Teens (JFT), NJPAC's signature Arts Education program.
Band Together's Mission is Multifold
First, it supplements what students are learning from an in-school band program. There's one-on-one instruction with teaching artists skilled in traditional band instruments such as brass, woodwind and percussion. Second, it gives students without any musical experience, like Penelope, the opportunity to learn how to play a musical instrument.
"I feel like we won the lottery," said Penelope's mom, Julie Fratrik. "The teachers are amazing, the kids are amazing, she just loves it." Penelope started in January 2023 and within one month she knew how to read music and five months after she began, Penelope performed in the semester concluding Final Share.
"What's exciting to see is that end performance, where students are demonstrating high-level achievements in a short amount of time," said Lawrence Liggins, NJPAC Artistic Director of Band Together and Band Director at Newark's Arts High School.
While learning new skills and how to play in an ensemble is important, NJPAC's Arts Education programs — supported by the Colton Institute for Training and Research in the Arts — also focus on supporting the whole child. Social workers are embedded in every NJPAC education program, with their services made available to students and their families.
"It's not just the music that we're covering, we're covering the development of the students socially and emotionally," says Liggins. "We give students the opportunity to express themselves."
For instance, during Band Together there's music appreciation which is a time for students to share their favorite genres, songs and more. "Sometimes we break out in singing, it's spontaneous," says Liggins who values how the time becomes an opportunity for creativity and self-expression. "Students have the tendency to blossom when they show what they like."
Student-led instruction is also a common theme in the TD Jazz for Teens (JFT) program. "Find what resonates with you," Mark Gross, Director of Jazz Instruction, implores his students. "We give you some skills and at the end, what can you create from that that's true to you?" Gross is a multiple GRAMMY® Award-winning alto sax player and composer.
Alex Kavlakian called his participation in JFT "a revelation." The high school senior has been playing drums since he was 3 years old but said he lacked musical direction in his teenage years. In 2022 he enrolled in JFT on a whim and said the inspiring teaching artists, who are also professional musicians, "made me love jazz so now I'm a fanatic."
Through the program, Alex learned how to research compositions and appreciate the way life experiences influence a musician's score. "Basic life lessons can be pulled from the music if you listen deep enough," he says. He has also found joy in performing and aspires to study music in college and become a professional jazz drummer.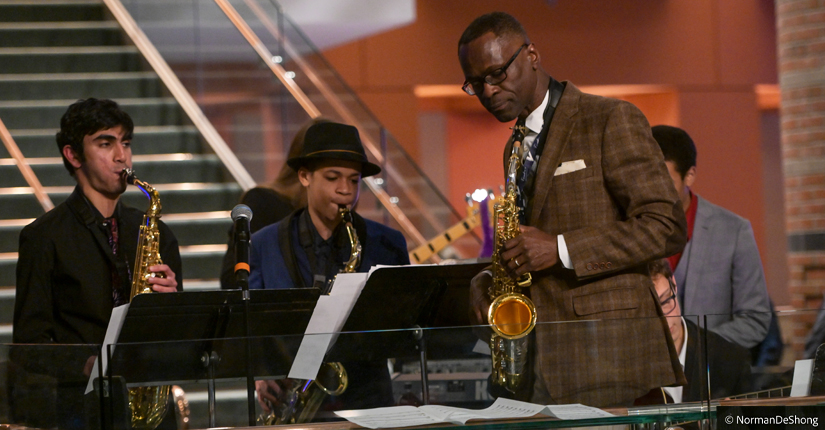 TD Jazz for Teens
Like Band Together, JFT consists of a full Saturday schedule of lessons, master classes and performance opportunities. There are also free enrichments for all enrolled students such as private instruction, mentorship opportunities and In The Mix, a time for students to develop creative projects around social justice topics that are meaningful to them.
"We accept all students," says Gross about all of the Arts Education programs. No prior musical experience nor an instrument is required; arrangements can be made for an affordable instrument rental. In addition, no student is turned away from NJPAC's Arts Education due to financial need.
"The opportunity and exposure we're giving students is enriching their lives beyond the comprehension of what we know," says Gross. "At a minimum, they're walking away with a deep appreciation and love for music."
The fall semester begins Oct 7, 2023. For information visit njpac.org/arts-education.