Social Skills resource and Anti-bullying prevention for parents, teachers and camp directors! Here's a resource that can help.
Redefining the definition of "cool" through proactive social skill activities and anti-bullying tools, Cool Kind Kids offers resources and support for young children to build healthy, caring, and respectful relationships while rejecting bullying. Although most kid-friendly environments have adopted anti-bullying policies to keep children safe, the root causes for such problems are rarely addressed. The key is to break the cycle by teaching empathy and emotional generosity, to kids, at an early age. Research has evidenced that social competence training and social emotional learning are the missing links toward bullying prevention. Cool Kind Kids addresses these issues through fun, comprehensive programs that can be incorporated and enjoyed at home, at school, at camp, and anywhere social interaction occurs.
Through award-winning music and activities, Cool Kind Kids encourages kids, from 4 to 9 years old, to adopt life changing skills embracing kind, respectful behaviors. Young children become engaged in these "pilot-tested, kid-endorsed, and teacher-applauded" lessons instilling the value that "the KIND kid is the COOL kid, not the bully."
They offer packaged kits, which can be used for teachers, daycares, after school, and recreation programs as well.

COOL KIND KID® KITS for Ages 4-6 and Ages 7-9, Various Kits Include: Workbook consisting of Parent/Camp guide, supplemental activities, answer keys, reproducible handouts [for rainy days and extended stays], Activity Booklet: Small, spiral-bound booklet with additional activities, Links to Download: 17 songs with vocals, 17 songs music only, lyrics sheets, and kit training. Cool Kind Kid Camp Kits reduced for 2021 to help you have a better year! Bigger reductions for multiple kit purchases [call for pricing]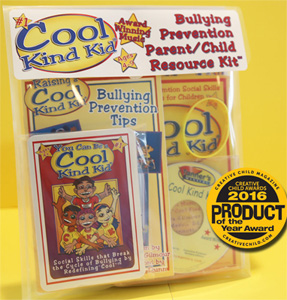 COOL KIND KID® BULLYING PREVENTION RESOURCE KIT
10 Award-Winning Products - Ages 4-9
For Parents, Educators, or Counselors and KIDS
Tools for building healthy relationships and rejecting bullying
$70 VALUE – Reg. Price $59.95 - $39.95 Camp Price
Click here to purchase or call 866-KID-KIND to purchase at this price
https://coolkindkid.com/books
To help our future generations break the cycle of bullying, please visit their website now at https://coolkindkid.com for more information and great products, videos, kits, and classes. Call toll-free: 866-KID KIND (866-543-5463).