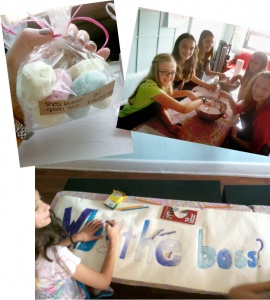 From time to time, Suburban Mom and NJ Kids like to introduce you to one of our friends – and hopefully together we can learn about some of the great businesses around our state. Today: Katie Cantor, Owner of Bath Junkie in Westfield. Read on to see how Cantor is turning her passion to begin her own business into an chance to inspire young, future female entrepreneurs.
Suburban Mom: What is your Name and Title?
Katie Cantor: I am Katie Cantor, and I am the owner of Bath Junkie in Westfield.
SM: Tell us a little bit about your background.
KC: I grew up in New Orleans until Katrina hit in 2005. My family was forced north, and I headed to The Art Institute of Boston to start my freshman year, where I studied photography and art history. So I am an artist turned businesswoman!
SM: Describe Bath Junkie – what type of business is it and how did you get the idea to start it?
KC: Bath Junkie is a franchise from Arkansas that was started by a mother-daughter team who have a lot of skin sensitivities. I worked for one of the franchised stores in New Orleans when I was 16 -17 and ran the 400 sq. ft. store and LOVED it. When Katrina hit, we were forced to evacuate and I missed my job!
Bath Junkie now has over 30 locations from coast to coast – it's a mix between an upscale Manhattan loft and the production line of a factory. The stores are a "drop-in spa." Each product from Bath Junkie's wide selection—including phosphate-free bubble bath, paraben and mineral-oil free moisturizers, exfoliating salt scrub, spa tub-safe bath crystals, alcohol-free body mist, shower gel, everywhere foaming body wash, hair conditioners, anti-bacterial hand wash and a full line of pet products—are custom-blended to the customers' specifications right in the store. With over 150 fragrances to choose from, customers can create their own dream blend (Gardenia and watermelon? They won't judge!). Customers can also select their products' tints, allowing them to simply choose a favorite color or create the perfect match for their bathroom or kitchen color scheme.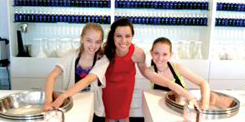 SM: As a woman, what is it like to run your own business? What is the best part? Hardest part?
KC: I have always been a self-motivating person. While I never dreamed of being lucky enough to run my own business, I knew I could do it if I was passionate about what I was doing and I certainly am passionate about Bath Junkie. The best part about running my own business is being the sole person responsible for the successes (and failures) at the end of the day. Being able to have my hands in all aspects of the store is a blessing and a curse! I try to be everywhere all the time and that is the hardest part. I am fortunate enough to have an amazing team of young women working with me, which affords me time to do more with our Entrepreneur Camp as well as more volunteer work with local battered women's shelters.
SM: Tell me about this Entrepreneur Camp.
KC: How does it work? Who's the boss? GIRLS! We bring eighteen teen girls together each week to learn about business, products, work ethic, self-care and presentation skills. This camp will give girls a hands-on opportunity to build financial skills and leadership while learning about the benefits and challenges of business ownership with successful women entrepreneurs from around Westfield. Through Bath Junkie product creation, the girls will have an opportunity to create a brand new product and learn how to display and market the item. The group of girls will learn what it takes to start and operate a business, learn about financial management, hear about self-care, business development, and presentation skills, visit women-operated businesses, and present their plans to women business owners and their families.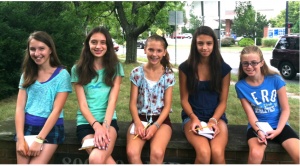 SM: Why do you think it's important to empower young girls and teach them to become future businesswomen?
KC: Young girls are our future! I had a passion and I went for it when I was 21 – I WAS a young girl! My sister is only 15 now and I want her to know she can do anything as long as she believes in herself to make it happen. I won't say it's easy, but it's worth it! I'm not sure our Entrepreneur Camp girls from last summer even know this, but they inspired me to do more and I find myself looking to the younger girls for their creativity and ideas. Girls are smart and if I can so much as help them focus their skills and reach for their dreams, they are going to do amazing things.
SM: Does Bath Junkie offer classes or special events? For kids? Adults? Describe.
KC: Yes – we offer a lot of different classes and special events, from Boot Camp where girls get a behind-the- scenes tour of the store, learn how to give our famous hand scrubs, test out and review potential new products and make their own products, to Girl Scout Programs, Ladies Night Out, Birthday Parties and more.
SM: Does Bath Junkie offer any classes for special needs children?
KC: While we don't have any classes specifically for special needs children, we have hosted birthday parties for girls with autism and Asperger's. Ask, and we'll see what we can do!
SM: Finally, What advice would you give to a young woman who wants to start her own business?
KC: Go for it girl! Make sure you've done your research, be conservative when it comes to the finances and put your heart into it. Lots of hard work and commitment is what separate the best from the rest.
To help young, inspired girls, we are happy to announce that one of our amazing customers has offered to give a $150 scholarship for our Entrepreneur Camp to be given to one lucky camper! In order to be eligible, the camper must write 200 words or less about why they want to attend camp! Deadline for the scholarship contest is June 25th.
By Jenny Tananbaum, NJ Kids Staff