What about a trip to Field Station: Dinosaurs? Go on a Scientific Expedition with Your Students!
Field Station: Dinosaurs is a working scientific expedition where students participate in active scientific investigations across disciplines of biology, geology, climatology, and paleontology. What makes a great field trip?

Field Station: Dinosaurs is an Earth Systems laboratory where students make discoveries about the history of Earth, New Jersey's geological past, plate tectonics, and climate change. It is one of the world's most unique zoos, with over 30 life-sized animatronic dinosaurs in a natural environment surrounded by one of North Americas most important bird estuaries.
Walk through dinosaur lined trails and experience a Jurassic Park in Northern New Jersey. Your students will come face-to-face with dinosaurs and interact directly with scientists including time in between for lunch.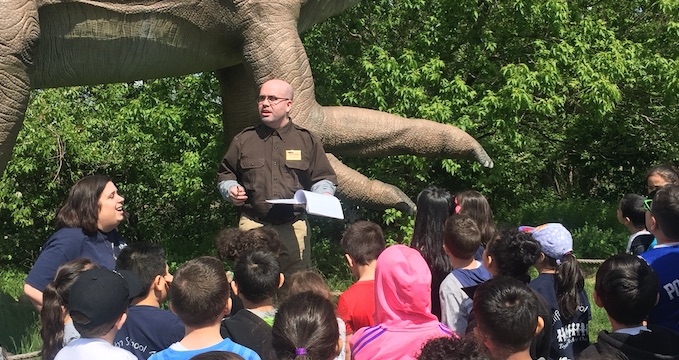 Field Station: Dinosaurs adheres to N.J.'s core curriculum content standards in Science Practices, Life Sciences, and Earth Systems Science.

It is also entertaining with live musical shows, activities and workshops, and a fossil dig site for young student scientists. It is the most fun your students will have all year! Field Trips are available for booking in May and June 2023. Contact groups@fieldstationdinosaurs.com or call 855-999-9010 for more information.

Located in Overpeck County Park, Leonia, N.J. - Field Station: Dinosaurs is Official Education Partner of Bergen County.