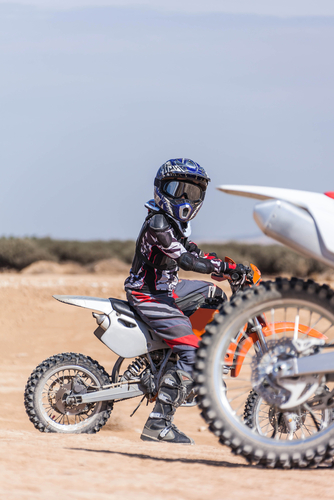 Dirt biking can be a great sport for kids. It's a lot of fun, it's challenging, and it can teach more than just how to twist a throttle. It can hone the mind body connection and force participants to overcome fear. But the sport is also dangerous.
Parents should understand there is an inherent risk to letting kids get on a bike. There is also a liability risk for tracks and other facilities that allow minors to ride on them. What follows are some things you should know before you let your kid on that new dirt bike:
Work from the Top Down
There is a piece of safety gear for every part of your kid's body, but there is no single piece more important than a good helmet. A well-fitted, quality helmet can save your child's life. A quality dirt bike helmet will cost you anywhere from $100-$500 depending on size, brand, quality, and design.
The important thing is to make sure the helmets are DOT and SNELL approved. DOT is the safety rating bestowed upon a helmet by the Federal Department of Transportation. In order to be sold as a motorcycle or dirt bike helmet in the United States the helmet must pass the DOT rating standard.
Snell Memorial Foundation is a private, not-for profit organization that sets voluntary safety standards for all kinds of safety head gear, but specifically for the motorized sport and racing industry. The standards for the Snell safety rating are not required for helmets like the DOT rating is, but because the Snell standard is a much tougher standard to meet, it is highly desired by the consumer. As a result, Snell certified motocross helmets are easily found wherever dirt bike accessories are sold.
Other Safety Gear
What goes on your feet when you ride is nearly as important as what goes on your head. It may not look like it at first glance, but your legs do most of the grunt work on a dirt bike. A good pair of riding boots is absolutely essential for the safety-minded dirt bike rider. Motorcycle boots not only protect your feet, but also your shins and calves from the heat of the motor and debris from your front tire. Boot sizes correspond to normal shoe sizing, but vary by manufacturer. Like helmets, the ideal fit is snug, but not uncomfortably tight to the point that circulation or movement becomes an issue.
Another essential piece of equipment every dirt bike rider needs is a good set of riding gloves. Gloves range in size much like helmets. A good set of gloves will not only protect your child's hands from weather and exposure, but in the unfortunate event of a crash. Gloves can run from thirty to a few hundred dollars and should come with a cloth mesh back and a tough leather, or hard padding palm. Comfort and fit is key here. The gloves should be snug, with no extra room in the fingers, but with plenty of pliability around the wrists to keep circulation to the hands strong.
As with every sport, dirt bike use comes with some inherent risk. Equipping your child with the best safety gear will greatly increase his or her chances of avoiding injury in the event of an accident and will give you piece of mind the next time he or she gets in the saddle.
Liability
If you are going to take your child to a riding facility or track, you will need to sign a liability waiver for the minor child. This protects the facility in the event of an accident. Most facilities will also have codes of conduct, like this one at Cedar Lake Arena in Wisconsin, to protect your child and other riders.
If your child wants to invite friends along on your off-road excursions, proceed with caution, especially if that friend does not have his or her own dirt bike. You could ask the parents of the friend to sign a liability waiver, but it could be difficult to enforce if you have not properly maintained the vehicle on which the child is riding, notes JustAnswer.com.
Additional care should be taken if you ride on your own property and are considering allowing others to do so, too. Before you make that decision, consult your insurance agent to see if additional coverage is required. Your liability exposure could also increase if the chance of injury on your property increases. While liability laws vary by state, you generally must use reasonable care for anyone on your property, notes The Nest.