If you're a parent, you have likely learned that kids go through a lot of phases. But if your son or daughter is gender-nonconforming, gender-variant, or transgender, it can be hard for those outside of the situation to realize that choosing not to identify as a specific gender isn't something that they "grow out of" like a hatred of eating their vegetables. For them, the line between the roles they were born with and who they want to be are blurred. And to say it complicates things while they're growing up would be a understatement.
Thankfully, there are companies out there that choose to reach out to those kids at every age, giving them support from their adolescence to their teenage years and beyond. Even if the products seem everyday or basic to us, their simplicity can make life just a bit easier for our kids.
Ages 0-8: Tootsa MacGinty Founded by clothing designer Kate Pietrasik in 2011, Tootsa MacGinty was one of the first companies to bring unisex children's clothing to the market. After living in France for 10 years, Pietrasik was shocked by the way that children's clothing were portrayed as so starkly gender segregated in the U.K.—something that didn't occur as predominately in France. Today, for every outfit modeled in the company's look book, each is worn by a young girl and young boy. Pink isn't reserved for the girls, and blue isn't only for the boys. Every child, especially those gender-nonconforming, can look at the catalogue and know it's perfectly OK to wear any outfit they see.
Ages 8-Preteen: Top Toys In 2012, Sweden's largest toy company, Top-Toy, banned all photos of girls holding dolls from its catalogue pages. According to the New York Daily News, Top-Toy director of sales Jan Nyberg told the TT News Agency that, "for several years, we have found that the gender debate has grown so strong in the Swedish market that we ... have had to adjust." The decision to move towards more gender neutral campaigns came after the company was reprimanded for gender discrimination three years prior. Their 2008 Christmas catalogue had images of only girls dressed as princesses and only boys dressed as superheroes. The incident certainly opened their eyes, and the company has set out to change their ways ever since. Boys are now showcased with Hello Kitty gear while girls wield toy guns. Even older ads have been photoshopped to change the toys and color of clothing, in order to stay on-point with the company's new gender-neutral message.
Preteen-Teen: Enter Pronoun Around this age, your gender-nonconforming, gender-variant, or transgender child may start to get into makeup. If they do, you'll have a hard time keeping them from painting their faces to the nines every morning before heading to school. But if you're going to support any brand, opt for Enter Pronoun cosmetics
.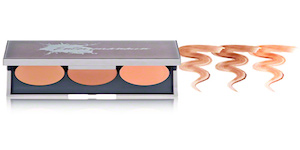 Enter Pronoun was the first collection of unisex makeup to hit the market in 2012. Created by makeup artist Natalia Ramirez, the line is light enough for delicate skin and substantial enough to cover any budding facial hair. And this all occurs while giving your son or daughter a subtle look that's appropriate for everyday use. There are many companies out there that don't take a stand on gender. If you really want to help your son or daughter, though, show that you support them even with the products you buy. These companies are paving the way for more gender-neutral lines, and with your help, they can continue to do so.