Escapology Garwood and Holmdel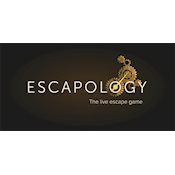 Escapology Garwood and Holmdel
Escapology is a high adrenalin escape game venue where players are immersed inside a series of themed rooms and must race against the clock before time runs out. During the 60-minute adventure, players must find clues, crack codes, solve puzzles and escape!
Save the world from a destructive virus, solve a mystery on board the Budapest Express, help the gang in Scooby-Doo and the Spooky Castle Adventure, restore the oxygen to the Steel Shark Submarine, prove your innocence from a notorious hacker and so much more! The students will:
-Learn to communicate in a group
-Work together as a team
-Solve puzzles, riddles and discover secret rooms through challenging escape games
-Have fun learning!
Escapology is the worldwide leader in Escape Room Venues and Quality Escape Games. Multiple award-winning designs and a clean family atmosphere have made Escapology a top destination for field trips, catered events, birthdays and team building. Contact us today to learn more and book your trip!
Escapology Garwood
300 South Ave
Garwood, NJ 07027
908-232-2222
Escapology Holmdel
Bell Works Building
101 Crawfords Corner Road
Holmdel, NJ 07733
732-490-7175