SafeSplash Swim School - Cedar Grove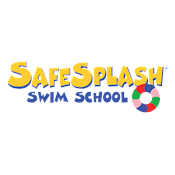 SafeSplash
SafeSplash provides excellent instruction in a positive environment that enables students to become safe, happy, and confident life-long swimmers. Proprietary curriculum gives students the cumulative building blocks necessary to provide a solid swim foundation for basic through competitive strokes. Patient and energetic SafeSplash instructors are certified in AED/CPR/First Aid/Lifeguarding and excel in creating a comfortable environment where students learn while also having fun.
Our brand new state-of-the-art swim school in Cedar Grove offers lessons for every age from 6 months to adult, as well as birthday parties and camps. With it's brand new warm-water pool, private changing rooms, showers, comfortable viewing area, play space and coffee/snack bar it provides the perfect environment for swimmers and their families to relax and enjoy the aquatic experience.
SafeSplash offers on-going monthly registration, giving families the flexibility to join at any time. Enroll in any of our facilities at safesplash.com or by calling (201) 399-3606.
Swim Camps
Beyond our weekly lesson programs, SafeSplash Swim Camps offer a more intensive learning program condensed to typically a one of two-week period. This summer SafeSplash Cedar Grove will offer 2-week swim camps for children 3yrs and up that meet every day for 1 hour sessions Monday-Thursday.
*This location is a stand-alone, dedicated facility. We operate 5 additional swim schools out of LA Fitness and 24 Hour Fitness gyms in Clifton, Hasbrouck Heights, Paramus, Parsippany and Secaucus.