Music for Aardvarks Classes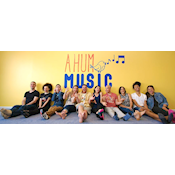 Music for Aardvarks Classes is a music and movement program for young children. Offering 3 great locations in Bergen County, Nj, specifically Waldwick, Glen Rock and Westwood. Demo any of our classes. Register for our 10 week semester classes.
Mixed Age classes are for children 5 months to 5 years and run for 45 minutes long. Classes are very interactive and are lead by a teacher and a back-up musician. We use lots of child-friendly instruments and props in class and we encourage participation from the children in whatever way they can. There is no right or wrong way for them to enjoy the music. We incorporate a lot of movement in class, so be ready for some big time fun with your little one! All children must attend with an actively participating grown-up.
Old Schoolers is a special class designed with the 3-4 year old child in mind. This class is for children who have been with us (or another Aardvarks program if you are just moving here) for at least 1 to 2 semesters (Aardvark veterans!) and they are ready for even more musical exploration and expression as a group. Children at this age can and want to contribute more to the class as they learn, grow and engage in singing, dancing, instrument playing, and large movement activities. Expect even more exciting musical fun as we let all of our imaginations soar! Children must attend with an actively participating adult.
Locations include:
134 Hopper Avenue, Waldwick
175 Rock Road, Glen Rock
6 Sullivan Street, Westwood