Whippany Athletic Club LLC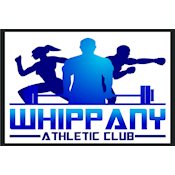 Welcome to the Whippany Athletic Club, a 10,000 plus square foot facility with comprehensive equipment for cardio, strength training and boxing, as well as specialized equipment and expertise for improving performance in all sports. Whether you are a serious athlete or just want to get in shape and improve your overall fitness, our gym has the facilities, expert trainers and equipment you need to reach your goals. Members come to us from Whippany, Cedar Knolls, East Hanover, Florham Park, Morristown, Parsippany and other Morris County, NJ and nearby communities for our expertise and state of the art equipment.
We offer a free trial week for those who live or work in the area; come in and check us out!
Strength Training
You won't find a better gym for strength training. The USA Powerlifting federation has named us as a "USA Powerlifting Friendly Gym." We have over 5000 pounds of York plates, CAP bumper plates, Texas power bars, dumbbells up to 200 pounds, free weight benches and racks and Life Fitness weight stack machines as well as other specialty equipment. Come train with our champion bodybuilders, powerlifters and more in our friendly, supportive club atmosphere. While most gyms won't allow you to use chalk - we supply it!
Sports Conditioning and Performance Training
Our club is also a premier performance training provider to athletes of all ages and skill levels. Beyond an aggressive strength and conditioning program, we provide speed and agility training focusing on mechanics and proper sport specific movement patterns, including explosive power and flexibility. We have the latest and most innovative training tools and our coaches are accomplished athletes who have passed rigorous certification programs.
Boxing Training; Youth Boxing
We are a registered USA Boxing gym, with all necessary equipment including heavy bags, speed bags, double-end bags and a full size boxing ring. Our cardio boxing program will challenge you in all dimensions of fitness - strength, endurance, speed, agility, reflexes, explosiveness, hand-eye coordination and more. For those who want to fight, our experienced coaches have guided fighters through all amateur levels and even into the professional ranks.
Our Youth Boxing classes, held two evenings a week, offer our younger members an energy-filled opportunity to improve fitness and a fun alternative to the inactive lifestyle that has become increasingly common with our children. Kids – come in and try a class during a free trial week, or just come in and watch a class! Parents, you're already here, so you can also work out during the Youth Boxing class with a day pass or membership after using your free trial week.