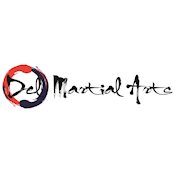 Del Martial Arts LLC provides traditional martial arts programs to students as young as three years old to adult. Inclusion classes are designed for the higher functioning special needs child so they too can experience an activity with minimal adaptations to instruction. In short; everyone is treated equally!
We offer developing pre-schoolers the chance to have fun in a structured, educational and physical group setting. Activities that work on focus and listening skills are incorporated into a 30-minute class that channels your tot's energy and excitement into personal growth and maturity.
CHILDREN (Ages 5 and Older)
We build confidence, balance and respect for others in a safe, organized and enjoyable setting. After an individual evaluation, each child is monitored and advanced according to specific goals and progress. Parents are involved along the way through scheduled assessment meetings.
Classes are designed with all levels of advancement in mind and special attention is given to beginners. A focused curriculum teaches traditional Soo Bahk Do applications and methodologies.
Our special needs martial arts program is open to students with a wide variety of developmental and physical challenges. Our ultimate goal is to help each student progress at their own pace and to eventually mainstream into our general class curriculum. Skills, balance and acuity are taught in a nurturing and fun environment. Highly qualified instructors consult with occupational therapists, physical therapists and child psychologists to create an enjoyable personalized program for special needs students.
Corporate Wellness
Private Instruction
Women's Self Defense
Advanced One on One Training
Clinics and Demonstrations