Professional Baseball Instruction (Bergen County)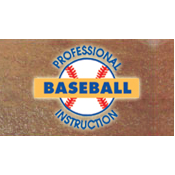 PBI Group & Private Instruction
Professional Baseball Instruction (PBI) offers year-round training for players starting at the age of 6 and going right through high school.
BASEBALL INSTRUCTION - Summer Camp
Professional Baseball Instruction has been providing New Jersey and New York baseball players with quality summer camps since 1993. PBI offers both indoor and outdoor summer camp programs designed to fit your baseball training needs. We're celebrating our 26th year of outdoor summer camps with our traditional 4-day camp program at locations throughout Bergen County. They run Monday through Thursday from 9AM – 1PM (Friday is a rain day) and include hitting & base running, fielding & throwing, and pitching & catching.
We offer two levels of instruction in the summer:
Minors Program is designed for players between the ages of 7-12.
The Majors Program is for players between the ages of 12 and 16 playing on the 60/90 field.

For complete details on our outdoor program including schedule and pricing, go to our website for more details.
PBI offers private and group instruction for players who are looking to take their game to a new level. We offer lessons in all areas of the game – hitting, fielding, throwing, pitching, catching, conditioning and base running for players ages 8 and up. Lessons are by appointment only and must be scheduled in advance.
PRIVATE LESSONS
PBI offers private lessons in all facets of the game of baseball for players ages 8 and above. One-on-one instruction is available any time we're open subject to coach/space availability. Lessons are available in 30-minute and 60-minute sessions. See below for price information.
GROUP INSTRUCTION
In addition, we offer semi-private and group lessons as well. As with our private lessons, these are by appointment only and must be scheduled in advance. Our mini-clinics are generally an hour in length and can be generic in nature or customized to fit your baseball training needs.
STAFF
Think of Professional Baseball Instruction as a warehouse of baseball information, stored in the collective experiences of our instructors who have combined for 100 years of playing, coaching, scouting and managing at the professional level – including the major leagues.
That's called intellectual firepower – at your service. That's why we can say with confidence that you'll be properly trained at PBI. You'll learn to play baseball…the right way.

DOUG CINNELLA – Founder & President/CEO: He's a to-the-bone baseball junkie, having played and lived the dream just like you. Talk about real-world experience: before retiring, Doug pitched over 1000 innings as a professional, starting with his third-round selection by the Baltimore Orioles in the 1986 draft. That made him the 97th player picked in the entire nation, an honor he validated by throwing two no-hitters and being named the NY-Penn League's Most Valuable Player in his first year in the pros. In fact, Doug is the only pitcher in the history of professional baseball to record his first two career victories via no-hitters. Doug's' career continued to thrive after being traded to the Montreal Expos in 1988, when he was named to the Florida State League's All-Star team, and was also chosen as the Topps Player of the Month. Doug's manager at the time was the legendary Felipe Alou, a three-time All Star who played with the Giants, A's and Yankees, among other teams, and was named National League Manager of the Year in 1994 with the Expos. It was through Alou that Cinnella learned the basics of instruction and the subtle ways to get the most out of his players. Doug has never forgotten the gift of self-confidence bestowed upon him by Alou, especially after becoming a free agent in 1990 and signing with the New York Mets. Now as a hometown boy playing for the team he rooted for, Doug made it all the way to the Mets' Class-AAA affiliate at Tidewater, where he played for two years. Of course, no one has forgotten Doug's legacy here in Bergen County, where he was All-League, All-County and All-State pitcher at Paramus High School. Doug's collegiate days at Seton Hall University still put him among the elite as well, as he holds the school record for strikeouts in one game (17 in 7 innings). His achievements have been honored with inductions into the Paramus High School Hall of Fame and Seton Hall University Athletic Hall of Fame.
Currently scouting for the Cincinnati Reds, Doug also serves as fellow-PBI coach Jeff Remo's pitching coach at Mahwah High School.