Gamers Paradise River Vale and Rochelle Park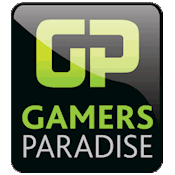 About Us
Looking for a Video Game Party? Let Gamers Paradise do it for you! We have it all from Nintendo Switch, Xbox One, PlayStation 4 with Virtual Reality and if you interested in Retro gaming we have you covered. Play the original NES, Genesis, SNES, Nintendo 64 and so much more...

All our party packages are fully customizable catering to any age group. Our parties take place in our amazing gaming lounge where you can play over 2,500+ games on 50" HDTVs! You can switch up your game and console as many times as you like. With our most popular package the Free for All we take care of everything the food, cake and goodie bags, so you can enjoy the party with your kids.

We can accommodate up to 32 gamers at a time. If you're looking for a smaller party we can accommodate as well with some packages starting with 4 gamers or more. Invite your friends for the ultimate gaming experience!

Our most popular Free for All package we take care of everything. We mean everything! Don't worry about anything during your birthday party. The planning of the food, all the paper goods and even the cleanup. During the birthday party we'll make sure all your guests are having a great time! At the end of the party we'll sing Happy Birthday! All your guests will leave with a Gamer Paradise goodie bag with a Free half hour in our gaming lounge and few candies.

What mosts kids say, "This was the best birthday party ever!


The Most Impressive Gaming Lounge Around!
Our gaming lounge has everything video games! Over 3,000 games to choose from on systems like Nintendo Switch, Xbox One, PS4, Xbox 360, Wii and even the retro systems like NES, Super Nintendo, Genesis, N64 and so much more… With all those games to choose from 2 hours just isn't enough time.

Interested in setting up a tournament? Let us know and we'll setup a tournament for your favorite gamers game. Have a Madden NFL or Injustice tournament, there are so many tournaments we could name, but we'll leave it you. Pick your favorite game and we'll take care of the rest. What's a tournament without a prize, we'll give the winner small prize for there amazing feat.

If tournaments aren't your thing, we also can set up challenges for your games like the old days of the arcades. Pick a game and we'll set a challenge that everyone can participate in and become a record holder in Gamers Paradise high scores!
2 Locations In Bergen County
5 W. Passaic Street Rochelle Park, NJ 07662
663 C Westwood Ave River Vale, NJ 07675
Book a Birthday Party!
We offer a vast variety of fully customizable party solutions that cater to any age group. Our parties revolve around playing in our gaming lounge: we have 2,000+ games, both retro and modern consoles, and 50" HDTVs! You can switch up your game and console selection as many times as you want.

Invite your friends to the ultimate gaming experience.