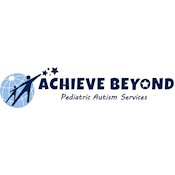 Achieve Beyond Inc. provides ABA therapy to help each child reach their full potential through education, therapy, and family support services. Services are provided throughout the state. We offer initial screenings, parent or school consultations, and comprehensive evaluations services to infants and children on the autism spectrum.
Our professional and licensed staff is committed to serve children with the highest quality standards. Professional development and excellence in service delivery is promoted through ongoing staff mentoring, professional collaboration and participation in continuing education. Services are provided in the home, clinic, or community settings. We provide treatment and evaluations through Insurance Companies and Private Payment options.
Pediatric ABA Services
Applied Behavior Analysis (ABA) is a scientific, problem-solving approach designed to produce socially-significant outcomes. In other words, Behavior Analysts aim to improve quality of life for individuals, families, and communities using the science of behavior change. The application of ABA is not limited to individuals with Autism, however over 60 years of research supports its effectiveness in meeting the complex needs of this population.
Who can benefit from ABA? Any person who…
· has difficulty carrying on a conversation
· has limited daily living skills (dressing, eating, toileting)
· exhibits moderate problem behaviors (screaming, non-compliance)
· exhibits severe problem behaviors (aggression, self-injury, property destruction)
· has little or no language skills
· engages in self stimulatory behavior (flapping, rocking, scripting television shows)
· needs extra help in academic skills
· has limited social skills (lack of interest in peers, trouble making friends)
Achieve Beyond's ABA Programs include:
· Team consisting of Board Certified Behavior Analyst (BCBA) and highly trained Behavior Therapist (BT)
· Quality Assurance mechanisms in place
· Verbal Behavior approach to language
· Comprehensive Assessment using criterion-referenced tests (ABLLS-R, VB-MAPP & AFLS)
· Parent Training/Team meetings
· Errorless teaching procedures to minimize frustration
· Therapists capture motivation
· Functional Assessment to determine why problem behaviors occur
· Functional Communication Training to replace problem behaviors with appropriate behavior
· Social skills curriculum
· Natural Environment Teaching (NET)
· Individualized, data-driven treatment plans